by Chaplain Julia Rajtar, M.A.P.S., BCC
When we are grieving, it can feel like we are carrying the weight of the world in our bodies, experiencing the wave of all kinds of feelings, thoughts and behaviors as we move forward with our lives.  One thanatologist described this as going through the "grief pit". Going through that pit is painful, yet it will bring us to new beginnings. William Worden, PhD, in describing his Tasks of Mourning advises that one of the outcomes of mourning is to find an enduring connection with the deceased in the midst of embarking on a new life, yet in order to do so, one needs to process the grief.
We live with our grief, blending it into our everyday lives as we go to work, school, exercise, church, etc.  In addition to the tasks of everyday living, are some practices we may apply personally to assist our body, mind or spirit such as journaling, prayer, yoga, mindfulness/meditation.  All of these practices can ease us through that grief pit.
Another way to move through the grief pit is to practice an attitude of gratitude, count your blessings or as the Bounce Back Project suggests, practice Three Good Things.  A hospital in Buffalo, MN adopted and developed this project for the community as an opportunity to retrain the mind to focus on the positive. The Bounce Back project website says that: 
Numerous studies have shown that using simple tools to help us retrain our mind to focus on the positive can increase feelings of well-being and decrease feelings of depression. These tools can also open us to the possibility of greater social connections, improved sleep, enhanced memory and stronger immune system function. It's simple… and life changing.
One of the tools in the Bounce Back hope chest is an activity called Three Good Things.  The basic principle of three good things is that daily, you acknowledge three good things in your life.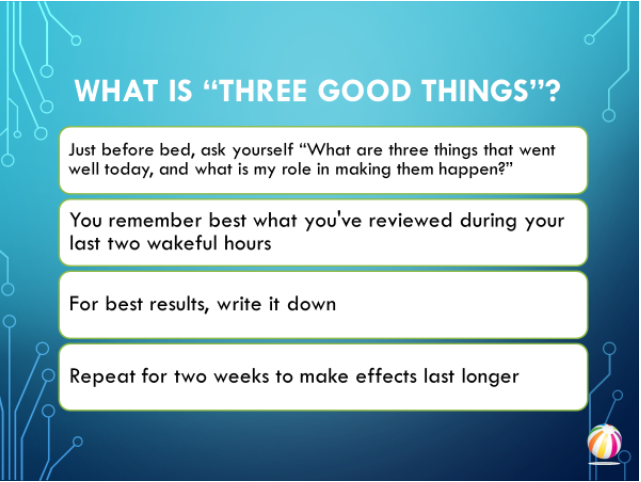 Three good things, or three blessings, was first researched by Marty Seligman at the University of Pennsylvania.  He is noted as the father of positive psychology and has demonstrated research around it. It was noted that our minds tend to perseverate on what we were thinking about just prior to sleep each night.  This intervention works by writing down three things that have happened to you in the day sometime within a couple hours of sleep. This has shown to improve happiness and outlook on life. In fact, many already may do this in their prayers just before bed.
As we prepare to gather with family and friends, for the first of several holiday traditions, let us remember to give thanks, to count our blessings, or recall three good things about the day, the person who died, other events in life, nature, etc.   Try counting your blessings, or three good things, nightly, every night for two consecutive weeks. Write down your three things in a notebook, not your cell phone – the light from the screen is a stimulant and has been known to interfere with sleep.
This holiday season let us give thanks, count our blessings or name three good things about the person who died.  Let us give thanks for what we shared together and for having them in our life. Let us name three good things about love shared, memories created, or the legacy left behind. Let us count our blessings for the grace of forgiveness and practice it with ourselves and others. 
Remember nightly, three good things, counting your blessings, an attitude of gratitude, and see how your own life changes, helping you go through that "grief pit" with maybe a little more strength, courage, and hope.  
I am grateful for those of you who are reading this
I am grateful for my family
I am grateful for the clerk who called me by name
Sources:
J. William Worden, PhD, Grief Counseling and Grief Therapy, Fifth Edition: A Handbook for the Mental Health Practitioner, 2018.
The Bounce Back Project, https://www.bouncebackproject.org/about-us/