by Chaplain Julia Rajtar, BCC
Someone said this of the dying:
Most people are not afraid of the dying, they are afraid of not having lived.
… what they desperately want is to live long enough to get it right, to feel
they have done something worthwhile with their lives, however long.
Living a Life that Matters, Harold S. Kushner, p 146 & 147.
Just as the dying tap into the wellspring of spirituality to seek meaning and purpose in life and in death, so too, do the bereaved. Those now living with grief in their body, mind and spirit, seek comfort from their spiritual beliefs and practices, to sustain them in this time of darkness and despair.
The bereaved have said things like: "I don't know how anyone does this without faith." "Without some type of belief, death makes no sense." "I believe one day I will see him again." "Life has just changed, not ended." "We sat Shiva, I never thought I could do it! What a gift!" Phrases made by the bereaved, all spiritual, some also religious. People who profess stronger spiritual beliefs seem to resolve their grief more rapidly and completely, after the death of a person close to them, than do people with no spiritual beliefs, according to a 2002 study in The BMJ.
Each of us understands spirituality differently, for the purpose of this article, I offer this definition:
Spirituality is the aspect of humanity that refers to the way individuals seek
and express meaning and purpose, and the way they experience their
connectedness to the moment, to self, to others, to nature and to the
significant or sacred. 
(City of Hope National Medical Center (Duarte, CA) collaborated with colleagues from George Washington
University Institute for Spirituality in Health (Washington, DC)
At the heart of humans, is a relationship between body, mind and spirit. When death occurs, it affects us at all three levels, not taking turns, but sometimes affecting all three at once, sometimes affecting one more than the other. The outcome is a physical, mental, social, spiritual and emotional reaction to grief. Spirituality can anchor us through the storm of grief reactions, it can bend as a tree top in a strong wind, bowing low, but not breaking. Spirituality is our shelter in the storm of grief.
In times of grief, spirituality sustains us as the bereaved search for meaning and purpose. In the depths of our pain we struggle with questions like: Who am I now? Am I still Mrs. Smith? Am I still husband, wife, partner, lover? Spirituality can help us, in our seeking, to find meaning and make sense of death. After the sudden and unexpected death of his wife, and in sharing the story of her death, some of her siblings went for testing and were found to have similar symptoms, undergoing a procedure which saved them from the same fate of their sister. After the sudden death of their child, this family now holds an annual children's super-hero event for the community. A school organizes students and teachers, after a tragic shooting, and unites to stop school violence, not only mobilizing their community in Florida, but throughout the nation.
Why questions are raised as the bereaved search for answers to sometimes unanswerable questions, particularly in the case of a trauma or unexpected death. These questions can include: Why did God let this happen? Why did this happen to someone so young, so full of life? Why didn't the doctors find his bad heart? Why couldn't she get more time? Sometimes too, there are no answers, only questions, that our spirituality, beliefs, values, and everyday life help us to carry. Held deep in our souls, we enfold these unanswered questions, hoping to find peace in the midst of the mystery, sustained by faith.
The death of someone we love can challenge our beliefs and values, causing a struggle in faith, yet it is these same values and beliefs that can sustain us in those times when nothing else makes sense.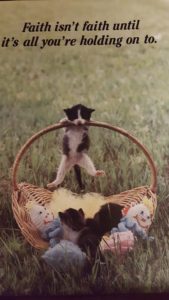 Sometimes the bereaved look deeper inside themselves, questioning and modifying beliefs. The
resources of a faith tradition, can be helpful guides. Please seek the spiritual wisdom of your faith
tradition, seek the teachers, seek other seekers in your spiritual community. The bereaved have shared that Places of Worship can be difficult without their loved one present, at their side. As one learns to live with that loss, there are ways to adapt, sitting someplace else, sitting in the back if you need to leave is less disruptive.
Prayer is a practice many faith traditions share. One of the simplest forms of prayer is to count your blessings. Daily, give thanks for three blessings in your life. If you don't practice a faith tradition, then name three good things each day in your life. The rituals of your faith tradition, or the rituals of your family can also provide comfort at this time. Meditation and mindfulness practices are also focused spiritual practices that can offer peacefulness within. Yoga too can help you focus its rhythms
connecting the body, mind and spirit together.
Spiritualty can bring both comforts and challenges in trying to simplify our beliefs and bring meaning to our loss. People who profess stronger spiritual beliefs seem to resolve their grief more rapidly and completely after the death of a person close to them. Here are some ideas for spiritual practices:
Spiritual Resources that can help:
 Resources from your faith can be very good guides
a. Religious traditions have teachers and books that can help provide some guidance
as you seek to find meaning out of loss.
b. Religious traditions also speak to suffering, reminding us that none of us will escape
suffering.
Books such as A Grief Observed, The Shack, or When Bad Things Happen to Good People recount
faith struggles and may offer insights as well.
 Mindfulness and Meditation
A spiritual practice that can help develop interior peace
http://mindfulnessandgrief.com/meditation-for-grief/
 Spiritual beliefs may affect outcome of bereavement: prospective study, 2002 https://www.ncbi.nlm.nih.gov/pmc/articles/PMC116607/
Sources:
Doka, Kenneth, J. Ph.D. (2012). Grief & Spirituality. Hospice Foundation of America. Retrieved from https://hospicefoundation.org/End-of-Life-Support-and-Resources/Grief-Support/Journeys-with-Grief-
Articles/Grief-and-Spirituality
Doka, Kenneth J., Ph.D. (2011, July 5). The Spiritual Side of Bereavement. HUFFPOST BLOG. Retrieved
from https://www.huffingtonpost.com/kenneth-j-doka/the-spiritual-side-of-ber_b_885705.html
Kushner, Harold S., Living a Life That Matters, Anchor Books, a division of Random House, Inc, New York,
2001, 2002. Print.
Walsh, Kiri; King, Michael; Jones, Louise, Tookman, Adrian; Blizard, Robert, (2002, June 29), 324(7353):
1551. Spiritual beliefs may affect outcome of bereavement: prospective study. The BMJ. Retrieved
from: https://www.ncbi.nlm.nih.gov/pmc/articles/PMC116607/