by Chaplain Julia Rajtar, MAPS, BCC
When you get bad news, such as.. your wife has died, your husband has cancer, your child was in an accident… your heart starts racing as your mind starts to absorb the reality of what you just heard. Those who try to support you offer a variety of responses to try to comfort you, saying things like, "God takes only the best", while others may say nothing at all because they don't know what to say, and finally there will be the select few who might say something like, "What a terrible loss to you and your family. I would be happy to sit with you a while if you'd like."
Early in my career, my attempts to extend sympathy or comfort were feeble at best, awkward often, and silent out of ignorance – not knowing what to say or how to be. I repeated the same phrases so many others before me spoke. Over the years I turned to those with greater wisdom who taught me phrases of care and support for these terrible times. Kate Bowler, in her book: Everything Happens For A Reason: And Other Lies I've Loved, shared some of the wisdom she has garnered herself, in living with cancer, and in speaking with others. Everything Happens for a Reason tells Kate's story, offering up her irreverent, hard-won observations on dying and the ways it has taught her to live.
What to Not Say During Terrible Times
Below is a small care package from Kate, for how to love, support and encourage people who have been on the other side of a terrible phone call. May you speak these words of care if you, or someone you love, has recently experienced the death of a loved one or other bad news.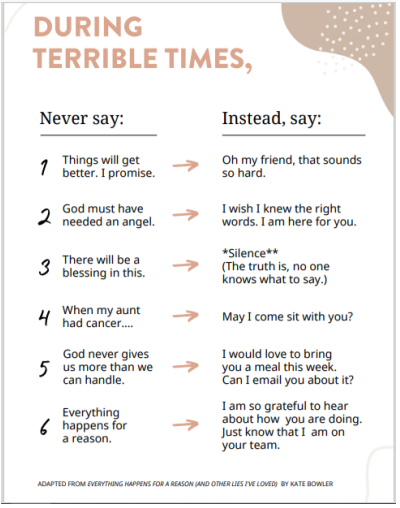 If you find yourself needing extra support and you are local to the River Falls or New Richmond area, we invite you to check out our grief support services. If you aren't local, you can always find helpful grief and healing information in our Latest News section.