If roses grow in heaven, Lord please pick a bunch for me, Place them in my Mother's arms and tell her they're from me. Tell her I love her and miss her, and when she turns to smile, place a kiss upon her cheek and hold her for awhile. Because remembering her is easy, I do it every day, but there's an ache within my heart that will never go away.

– Anonymous
Flowers are one of the earth's most beautiful creations. Whether it's funeral flowers or flowers from a deceased loved one's garden, many often wish that it was possible to preserve them as a way to remember their loved one.
Here are some simple and creative ways that you can keep those flowers around for a long time to come.
Make a Picture Frame Keepsake
We love this idea because it is a simple yet beautiful reminder of our loved one. Instead of writing the word love, you could put the name of your loved one, the years they were born and died, or their birthdate.
Here's another version of this idea but using even more of the flowers!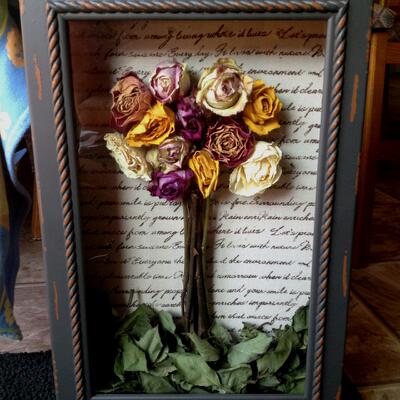 Preserve Flowers with Borax
This is another DIY project but it's for preserving whole flowers. This option is great if you want to preserve an entire bouquet of flowers. The instructions even have a video for you to follow so it's easy to follow.
Wax Dipped Flowers

This simple YouTube video from 1800 Flowers is another great way to preserve whole flowers or bouquets. She even shows examples of flowers that were waxed a couple days ago so you can see how well they are preserved.
Memorial Flower Jewelry
If you're not a DIYer, then this option may be for you. This company takes your flowers, dries them and creates a one of a kind piece of jewelry for you to remember your loved one by. They have lots of different options to choose from.
Wax Paper Bookmark
Here's one last DIY project for you to preserve funeral flowers. The guide state that you should use flatter flowers to make this project work. The beautiful colors of the bookmark will be a great reminder of your loved one.
What other creative ways have you used to preserved flowers? We would love to hear your suggestions or show us the memorial keepsakes you have made from the ideas given today!