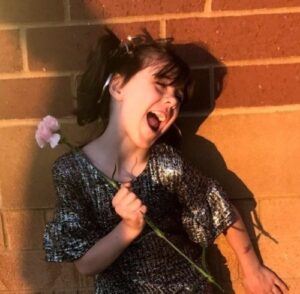 Zaelia Mae Follansbee was born on February 9th, 2016, and passed away unexpectedly on 12/30/2022 at nearly 7 years of age. Zaelia was a fantastic artist and loved to share her creative personality and warm heart with everyone around her. She loved drawing, playing guitar, singing, snuggling her kitty, chasing the chickens, and making everyone laugh – she took center stage in everything she did. Her positive and happy energy was contagious and she lit up every room she entered. Everyone she touched was left with an impression you could never forget. Zaelia was incredibly selfless and always looked for ways to care about the people around her. She did everything to lift their spirits. Zaelia was an amazingly beautiful soul that touched the lives and hearts of everyone around her in her short journey on earth.
Zaelia is survived by her parents Tiffany Rosen and Micky Follansbee, her sister Elly Rosen, several grandparents, aunts, uncles, cousins, and her kitty Nermal.
A Memorial service will be held in the late spring with details to follow. Please go to www.facebook/groups/zfollansbee for updated celebration of life information or if you would like to make a donation. Arrangements are with Bakken-Young Funeral & Cremation Services and Halos of the St. Croix Valley.