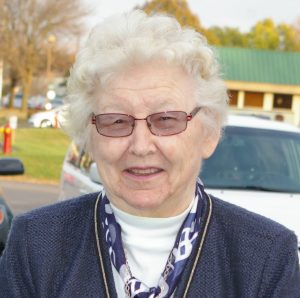 Yvonne Meents, age 86, of River Falls, died unexpectedly on Sunday, August 20, 2017 at the River Falls Area Hospital surrounded by loving family and friends. G. (Gyda) Yvonne Tostrud was born March 10, 1931 to J. Orville and Ethel (nee Retrum) Tostrud, of Nelson, WI, at St. John's Hospital, Goodhue County, Red Wing, MN. Yvonne was born on her father's birthday. Yvonne was baptized, confirmed, and married by the Rev. Arthur S. Johnson at The Lutheran House of Worship (now Ezekiel) in River Falls. While growing up, Yvonne was an active 4-H member participating in demonstrations, speaking contests, baking, canning, and sewing. She was a Sunday School teacher, secretary to the Sunday School Superintendent, and sang in the Senior Choir at The Lutheran House of Worship. Yvonne went to school at South Rush River School, Forestville Rural School, The Training School (Ames school at UWRF Campus), and graduated from River Falls High School, class of 1948. After graduation, Yvonne worked at the River Falls First National Bank on Main Street for 12 years. She took great pride in her banking responsibilities, and formed lasting friendships and memories that continued to this day.
She and Bruce Meents were united in marriage on June 4, 1960 and were blessed with three children, Nancy, Mark, and Janet. After marriage, she worked at George Williams College Camp in Williams Bay, WI.  She was a cashier and Bruce was head cook. She also worked at Beloit College. August 1968-1970 the family lived in Wallingford, CT, so Bruce could attend the Culinary Institute of America. While there, she worked at Ryerson Steel. They returned to River Falls in 1970. Yvonne and Bruce were charter members of Faith Evangelical Lutheran (WELS) Church (built in 1974) in River Falls.
First and foremost, she loved God. Yvonne was very passionate about her faith and trusted God in all things! Everything she did was with all her heart and soul. She was a wife, mom, grandma, and great-grandma. You could say, she was a "C.E.O. Homemaker," which was evident by everything that she did, such as, driving the kids around to their activities, attending all their events, 4-H, church groups, dropping everything and being there whenever and wherever she was needed by her family or friends.  She was also a hobby farmer's wife, which included feeding and chasing cows, pigs, and horses, driving tractor, endless trips of picking up hay and feed, and would always take time to make and deliver a hot meal, in style, to the field for everyone to eat. There would always be a tablecloth spread out on the hood of the vehicle, glass dishes, and on occasion, fancy goblets.
Yvonne was known as an avid cook and baker, and had many special family "secret" recipes. Some of her favorite things to make for the grandkids were graham cracker pie, chocolate peanut butter Rice Krispy bars, chocolate malts and her famous toast. In her spare time, she loved writing poetry for special occasions and used them as gifts for family and friends; crocheting dishtowels, reading, crossword puzzles, gathering around the piano for sing-a-longs, watching the birds, and endless family and friend get-togethers. She was a devoted member of the Music Madams singing group for 38 years and formed many wonderful friendships.
Yvonne was preceded in death by her parents, J. Orville (March 1960) and Ethel Retrum Tostrud Carlson (June 1978); son, Mark G. Meents (August 1979); niece, Karen Forbes (July 1987); and cousins, aunts, and uncles.
She is survived by her husband of 57 years, Bruce; two daughters, Nancy C. (Mike) Johnson and Janet C. (Mark) Poling. Eight grandchildren, Kevin (Amy), Nicole, Kyle, and Colin Johnson, Connor, Riley, Parker, and Peyton Poling; great-grandchild, Coraline Johnson; brother, James Tostrud; two sisters, Judy (Terry) Forbes and Loueta Tostrud; and aunt and cousins.
Funeral Service was held Saturday, August 26, 2017 at 11:00 a.m. at Faith Evangelical Lutheran Church (545 Apollo Road, River Falls). Visitation was held Friday, August 25, 2017 at Bakken-Young Funeral Home of River Falls from 4:00-8:00 p.m. and Saturday from 9:00-11:00 a.m. at the church. Interment was Greenwood Cemetery of River Falls. Arrangements are with Bakken-Young Funeral & Cremation Services of River Falls.