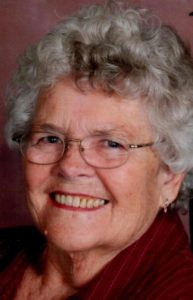 Yvonne Lucille Brotzler, age 82 of New Richmond, died Monday, August 12, 2019 at St Croix Health Center in New Richmond. She was born the daughter of Elmer and Harriet (nee Halverson) Asplund on June 17, 1937 in Saint Paul, MN. She grew up in New Richmond graduating from New Richmond High School, class of 1955. She worked at First National Bank in Saint Paul once she graduated high school. Yvonne met George Brotzler while working at the bank. They were united in marriage on October 11, 1958 at First Lutheran Church in New Richmond. Later in life, she worked for Krueger's Supervalue and made French fries at Cedar Lake Speedway for many years. Yvonne loved planting her garden, playing piano, and canning, especially peaches and pickles. She also made potato sausage and grape wine. She loved caring for and playing with her grandchildren and great-grandchildren. Yvonne and George enjoyed travelling to Hawaii and short trips to the North Shore. Yvonne was dedicated to her family and was always positive. Her smile was contagious and made everyone laugh. She was loving and caring to all.
Yvonne is preceded in death by her parents, Elmer and Harriet Asplund; grandson, Grant Brotzler; brother, Charles Asplund; and sister, Betty (Roger) Brink. She is survived by her husband, George; children, Dennis, David (Ruth), Dan (Lily), Renee' (Don) Presley; grandchildren, Trey and Trent (Kayla), and Carley Brotzler, Matt (Jessica) Brotzler, Jessica Presley; great-grandchildren, Owen Brotzler, Chloe and Aria Brotzler; sister-in-law, Lois Handrahan; and many nieces, nephews, relatives, and friends.
A Memorial Service was held Saturday, August 17, 2019 at 12:00 noon at Bakken-Young Funeral & Cremation Services (728 S. Knowles Avenue, New Richmond, WI 54017) with a visitation starting at 10:00am. Private family interment will be in Oakland Cemetery in Star Prairie, WI. Arrangements are with Bakken-Young Funeral & Cremation Services.