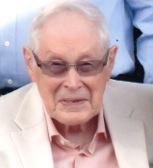 Willys Carlyle Thomson died Sunday, September 29, 2013, at the age of 89 while under the care of the loving staff of Lake View Heights at North Central Health Care Center and Aspirus Comfort Care and Hospice Services of Wausau, WI.
Willys was born April 12, 1924, in Weyauwega, Wisconsin, being the oldest son of Carl and Lydia Thomson. He graduated from Frederic High School in 1942.
Willys was drafted March 6, 1943, at the age of 19, and went to Camp Grant, Illinois, for induction in the U.S. Army. He was then sent to Camp Joseph T. Robinson in Little Rock, Arkansas, for basic training and then sent to the deep South Louisiana to the 88th Infantry Division, 338 FA Battalion and was assigned to the Number One Gun Section. After further training, he was sent to North Africa in January, 1944. He was then shipped to Naples, Italy, on February 9, 1944. Willys was wounded December 27, 1944, at Fiumento, Italy, along the river on what had become known as the "impact area" when a German shell came crashing down, changing the lives of many men on the Number One Gun, a 105mm Howitzer. Willys was hit in both legs, the buttocks, and lost two fingers on his left hand. After spending nineteen months in hospital recovery where he had 27 surgeries, Willys was discharged from the Army on July 26, 1946. Willys received the WWII Victory Medal and Ribbon, Unit Citation, Good Conduct Medal, American Campaign Medal and Ribbon, Purple Heart, European African Middle Eastern Campaign Medal and Ribbon with two Bronze Service Stars, as Corporal from Battery B, 338th Field Artillery Battalion, 88th Infantry Division, Army of the United States, having served fourteen months in Africa and Italy. Upon his return to civilian life, he attended and graduated from the Minnesota School of Business. After being silent about his war experiences for fifty years, Willys wrote a book for his family and community. Willys was invited to speak to the New Richmond Middle School students every year on Veterans' Day. The word "complain" was never in his vocabulary throughout his lifetime.
Frances Elaine Peterson and Willys were married on August 15, 1948; they had two children, daughter Lynne and son Bryce. After working in Minneapolis, Fairmont, MN, Rice Lake, and Eau Claire,WI, they settled in New Richmond in 1959 starting his 32-year career as an accountant for Friday Canning Corporation. After his retirement in 1991, Fran and Willys traveled extensively on many trips with his family and former 88th Infantry Division comrades to England, France, Germany, Switzerland, Italy, Austria, the Caribbean, Scandinavia, Greece, Egypt, Israel, Turkey, Hawaii, and Alaska as well as annual Blue Devils' conventions in the U.S.
In 1996, he decided, after many years of dealing with a wound that would not heal, to have his left leg amputated below the knee. Willys managed to get around quite well for many years following the operation.
Willys was a member of First Lutheran Church, New Richmond since 1959, the VFW Post 10818 of New Richmond, former Treasurer for the New Richmond Heritage Center, and former Treasurer of New Richmond Car Club. His love of music prompted him to sing in the church choir for over 40 years, and his love of cars, especially his 1951 Ford, 1967 Mustang, and 1982 Corvette (aptly named Lucky Find,) took him and Fran to numerous car shows–his last attendance being the car show held at the North Central Health Care Center in Wausau this September which was organized with him in mind!
Willys had the very special honor of participating in the ninth Never Forgotten Honor Flight to Washington, DC, from Wausau, WI, on September 24, 2012. This was his third trip to see the WW11 Memorial, the first being with the Blue Devils group and the second with his family for grandson Dan's Master's graduation. Each trip was unique, memorable, and special to him.
After his wife of 63 years passed away in December, 2011, he took up residence at the Deerfield Commons, New Richmond, keeping everyone on their toes. Due to more serious health issues in 2013, he moved to Lake View Heights at the North Central Health Care Center, Wausau, to be closer to his daughter Lynne and family. He was as entertaining there as he was at Deerfield. The LVH staff described him as "just the ticket!" Because he maintained his quick wit, sense of humor, and adorable smile, he put many smiles on many faces throughout his stay there.
Willys is survived by his two children, Lynne (Tom) Helbach of Mosinee, WI, son Bryce (Susan) Thomson of Balsam Lake, WI, grandsons Dan (Kate) Helbach of Norwood, MA, and Scott Helbach currently of Mosinee but prefers Chicago, brother Lanford (Margaret) Thomson of Meadowlakes, TX, niece Lanice Thomson of Euless, TX, cousin Lois Pietz of St. Germain, WI, aunt Marjorie (Herbert) Nelson of Neenah, and many Peterson nieces and nephews. Family was very important to Willys, and he dearly loved all three of his grandsons.
He is preceded in death by his parents Carl and Lydia, his wife Frances, and grandson David Slater.
Funeral services were held on Thursday, October 3, 2013 at 2 pm at Bethany Lutheran Church 415 Bridge Ave Star Prairie, WI. Visitation was also Thursday from 12- 2 pm at the church. Interment was in the New Richmond Cemetery immediately following the service. Memorials may be made to VFW and North Central Health Foundation in Willy's name
The family extends their sincere appreciation to the staff at Deerfield Commons, New Richmond, WI, for lovingly giving him a home after Fran passed away and to the staff at Lake View Heights, North Central Health Care Center, Wausau, WI, for their genuine love, outstanding care, dignified atmosphere, and special attention given to him during his time there. We proudly and gratefully call each and every one of them "family." Arrangements are with Bakken-Young Funeral & Cremation Services Beebe Chapel of New Richmond.