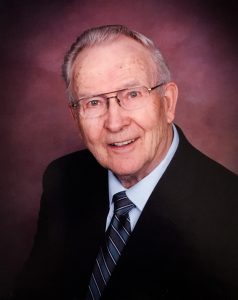 Wilbur Oscar Falkenthal, age 86, of New Richmond, WI, passed away July 8, 2017 in his home surrounded by his family.  He married Helen Fall in 1963 and they enjoyed 53 full years of married life together in Oak Ridge in New Richmond where they raised their family, planted gardens, and taught school.
Wilbur Falkenthal was born at Cumberland Memorial Hospital on April 4, 1931.  The son of Oscar and Marie Falkenthal.  Wilbur had one brother, Albert (Bucky) Falkenthal and one sister, Mildred (Thome) Falkenthal.  Wilbur lived on the country farm until the 1950's.  Wilbur attended Stanfold School for his elementary education.
Wilbur attended Rice Lake High School from 1945-1949 when he graduated.  Wilbur attended River Falls State University when he graduated with a BA degree in 1955.  Wilbur later attended the University of River Falls and completed his Master's degree in 1972.
Wilbur was in the U.S. Army from 1952-54.  He was stationed in Trieste, Italy for most of his service time while there he was a member of the general's personal guard called Castle Guard.  Wilbur had the army rank of Corporal.  He was in the Military police unit prior to this but in Trieste, Italy he was with British Troops in a group called Trieste United States Troops (TRUST).  He has fond memories of the Adriatic Sea, army buddies, and Italy.  He was fortunate to travel the world during his time in the army.  He spent time in Turkey, Africa, Italy and Greece.
Wilbur began his teaching at Winter High School in 1955.  He left Winter and went to live in New Richmond where he taught World History and Civics at New Richmond High School for 36 years.  He taught a total of 38 years.  Wilbur loved teaching world history and he hoped that his students learned to appreciate people of different cultures.  He wanted his students to learn that by understanding our differences we can live in a peaceful world.
Wilbur is of German descent and has always attended the First Lutheran Church in New Richmond.  You could find him at the 8 am service on Sunday morning.  He also taught Sunday School for 16 years and was on the church counsel in the 1970's.  Any other day of the week he was having coffee with the retired teachers at the "day of the week" coffee spot.
He loved sports and is an avid Green Bay Packer fan.  He also loved doing yard work.  He always had a big potato garden and vegetable garden.  He also loved to visit the New Richmond Library and he loved to read the newspapers and keep up on current events.  He was a merit badge boy scout counselor and he enjoyed maple syruping with his buddies and he was a lover of the game of Scrabble.
Wilbur is survived by wife, Helen; children, Corey and Kara; grandchildren, Dillon and Maiya O'Connell; sister, Mildred Thome; sister-in-law, Marilyn Falkenthal; many nieces, nephews, and other relatives.  He is preceded in death by his parents; brother, Albert (Bucky) Falkenthal; sister-in-law, Clair Falkenthal; niece and goddaughter, Dorice Falkenthal; nephew, Stephen Falkenthal; brother-in-law, Edmund (Bud) Thome.
A funeral service was held on Friday, July 14, 2017 at 11 am at First Lutheran Church (218 County Road K) in New Richmond.  Visitation was held Thursday, July 13th from 4-7 pm at Bakken-Young Beebe Chapel (112 W 3rd St.) in New Richmond and on Friday from 10-11 am at the church.  Private interment was at Holy Trinity Orthodox Church Cemetery in Clayton, WI.  Military honors were performed by New Richmond American Legion Post #80. In lieu of flowers, memorials to First Lutheran Church.  Arrangements are with Bakken-Young Funeral & Cremation Services Beeb Chapel of New Richmond.