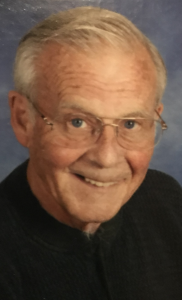 Wayne A. Nelson, age 84, of River Falls, WI, died on Tuesday, October 17, 2017 at Comforts of Home, The Lodge in River Falls. Wayne was born 08/08/1933 to Russell and Irene Nelson in Centuria, WI. He spent his formative years in Bruce, WI where he met and married Frances Mae Pauline Romsos on 06/12/1955. As a young pharmacist, Wayne started his career in Chippewa Falls, WI before settling in for a lifetime of service in River Falls, WI. Wayne started working for Mr. Glen Dewey of Dewey Drug before opening a Walgreens/Ben Franklin in 1970 on Main Street River Falls. By the late 1970s he had opened a Hallmark and a Snyder Drug where he worked until his retirement in 2005. In addition, Wayne spent 25 years working at the Lutheran Home where he enjoyed interacting with the residents and staff. Wayne became involved in many local organizations, including the Masons, the Shriners, the Hospital Medical Review Board, the 1st National Bank Board, and River Falls Youth hockey.
Wayne is survived by his wife, Frankie; his children, Steve (Barb), Vicki (Ron), Craig, and Sandy; his grandchildren, Stephanie (Mike), Ryan (Catherine), and Meghan (Luke); his great-grandchildren, Braydon and Leah; and his many "grand-dogs."
A Celebration of Wayne's Life was held Saturday, November 4, 2017 at 1:00 pm at Ezekiel Lutheran Church (202 S 2nd St.) in River Falls.  Visitation was also on Saturday from 11:00 a.m. – 1:00 p.m. at the church.  Interment was in Greenwood Cemetery. In lieu of flowers, donations will go to the Alzheimer's Association, the St. Croix Hospice and Ezekiel Lutheran Church.
Arrangements are with Bakken-Young Funeral and Cremations Services of River Falls.