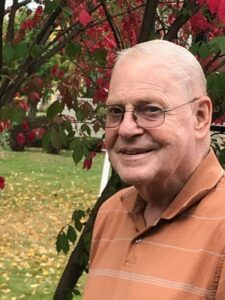 Wayne L. Beebe, age 83, of River Falls, WI, died peacefully on January 21, 2023, at his home in River Falls. Wayne was born on March 29, 1939 in River Falls, WI to Nolan and Hazel (Wanner) Beebe. He graduated from River Falls High School in 1957. He went on to earn undergraduate and Master's degrees in teaching from UW-River Falls.
He married Kathleen Svercl on March 21, 1970, a marriage that would be blessed with almost 54 years of love and devotion, and two amazing children, Sharyl and Holly.
Wayne started working at age 11 by delivering milk in glass bottles for Bill Schultz. From there he worked for Kole Kolstad in his shoe store, for Stan Larson at Super Value, built clamped casement windows at Andersen Corporation, worked for Monarch Mobile Homes and helped build Tom Thumb trailers with his brother Dan. He worked for Gaylord Bystrom Heating and Sheet Metal, then went back to the grocery store and worked for Shorty Barr and Butch Veith in plumbing, heating and sheet metal. Around age 19-21 he worked as a Lab Assistant at UW-River Falls in the chemistry lab. During college Wayne student taught at Spring Valley, WI in 1961 and then taught his first year at New London, WI 1961-1962. At that time he also worked more in plumbing. In 1967-1968 the National Science Foundation sponsored him for a year at Academic Year Institute at San Jose, CA. After he was married he worked for Herb Cudd doing cement work and then building homes with a framing crew. Then Wayne began working again at UWRF laying blocks and bricks for the student union building. He taught math at River Falls Public Schools until retiring in June 2000 (39 years). While teaching he also sold real estate with Gary Kruger at Kruger Real Estate for many years. After retiring from River Falls Public Schools, Wayne taught as an Academic Instructor in the Math Department at UWRF. Wayne was also a 16-year member of the River Falls City Council and many years on the Planning Commission and Utility Commission.
Wayne loved spending time doing woodwork, building homes, adventures with Kathye, having coffee with the guys, playing cards with friends, traveling all 50 states plus 32 international countries and playing with his grandchildren, Ally and Olivia. He was also a big fan of sports, especially football. He coached Junior High football for 25 years and went to nearly every home high school football game during that time and after. He always lent a willing hand when asked for help and helped numerous students learn math "the long way" over the years. He loved helping them learn and seeing their progress. He will be most remembered for his "real world" speech and his many accomplishments in his life.
He is survived by his wife, Kathye; children, Sharyl Beebe and Holly (Jeff) Pizzi; two grandchildren, Allison and Olivia Pizzi; brother, J. Daniel Beebe (Lakeville MN); niece, Sue (Steve) Beebe-Viere; and sister, Marion Beebe (Tomah WI); nieces and nephews, Cathy Svercl, Julie Svercl, Thomas Svercl, Robert Svercl, Shayne Wanous and Christine Kelley. He is preceded in death by his parents, Nolan and Hazel Beebe, and sister-in-law, Barbara Beebe.
A Celebration of Wayne's Life was held on Saturday, January 28, 2023 at 12 noon at Bakken-Young Funeral & Cremation Services 805 E Division Street River Falls, WI.  Visitation was also held on Saturday from 10 am – 12 pm at the funeral home.  Interment will be in Greenwood Cemetery at a later date.  Arrangements are with Bakken-Young Funeral & Cremation Services.
Click here to watch a recording of Wayne's service.