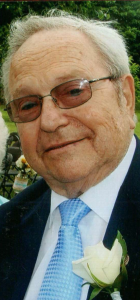 Wallace "Wally" Dunn, age 85, was received into glory on August 2, 2017 at the Deerfield Gables, surrounded by his loving family.
He was preceded in death by his parents, "Dutch" and Irene Dunn; brother, Warren Dunn, brother-in-law, Andrew Anderson; and infant granddaughter, Amy Lynn Wilson.
He is survived by his loving wife Violet; children, Douglas (Linda) Dunn, Nancy (Ron) Wilson, Steven (Mary) Dunn, and Laurie (Jason) Sadowski; brother, Charles Dunn; sister, Lois Anderson; grandchildren Ben (Heidi) Wilson, Brian Wilson, April Wilson, Heather (Ben) Naylor, Mandi (Dillon) Zielske, Christopher (Heather) Kunkle, Carol (Austin) Brunette, Sarah (Justin) Malaise, Alison (Bobby) Hach, and Matthew (Gaby) Dunn; and great-grandchildren, Jocelyn, Kellen, and Bryce Wilson; Kylie, Madison, and Caleb Naylor; Nolan and Lincoln Zielske; Kayla and Paige Rudolf; and Briar and Blakely Brunette.
Wally received his Master's Degree in Chemistry from the University of Wisconsin-Madison.  He was a highly respected and accomplished teacher and coach.  He taught Chemistry and Physics for nearly 40 years at New Richmond High School. He was the varsity coach for football, wrestling, and baseball and coached New Richmond's first ever wrestling state champion.  Even after he retired from coaching, he remained highly active in Tiger athletics as a WIAA wrestling official for more than a decade as well as Key Club.  He touched the lives of many students and student athletes and was loved by all those that had the pleasure of knowing him.
Funeral service was held on Wednesday, August 9, 2017 at 11 a.m. at St. Luke's Lutheran Church (365 West River Drive, New Richmond). Visitation was held Tuesday, August 8, 2017 from 4-7 p.m. at Bakken-Young Beebe Chapel (112 W 3rd Street, New Richmond) and Wednesday from 10-11 a.m. at the church.  Interment was in the New Richmond Cemetery.