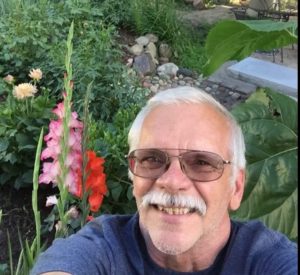 Walter Scott Ainsworth (Scotty), age 70 of River Falls, Wisconsin passed away unexpectedly on Thursday, December 3rd, 2020 at home.  Scott was immensely kind and believed that everyone deserved a chance to succeed.  While we are saddened at Scott's sudden passing, we find comfort in the belief that he had a wonderful impact on everyone he met.
Scott was born on June 30th, 1950, son of Morris and Mary "Betty" (Bowen) Ainsworth.  Scott was an amazing son and brother.  From his family he developed a strong love of the outdoors and would often recall stories of trips to the shores of Lake Superior.  In 1980, Scott was united in marriage with Kristen Mittelstadt.  Scott and Kris had two daughters, Sarah and Katie.  Scott was an incredible father, who enjoyed teaching his daughters how to ski and passing on his love of nature.  Scott's passion for nature led him to work for many years at Clifton Highlands Golf Course and Afton Alps.  After retiring, Scott enjoyed planting and tending to his "comma" garden.  Scott embraced spending time with family and friends, especially an important group of people he met during his time at Winona State University, "The College Crowd".  He also began a new hobby of photographing his flowers and connecting with others on Instagram.  His favorite message to share with his followers on IG was #lovewillwin.  Scott's ultimate job began in 2015 when he became a Grandpa.  He could often be found playing "bulldozer", making mud pies and sharing his Cheetos with his grandsons.
Scott is preceded in death by his loving wife of 38 years, Kris.  We are thankful they are reunited.  Scott is survived by daughters, Sarah and Katie Ainsworth, grandsons Jay and Noah, brother Charlie (Penny) Ainsworth, sister Mary Ainsworth, nephew Daniel Graham, sister-in-law Geri (Rob) Tuttell, brother-in-law Kevin Mittelstadt, nephew Chris (Stacy) Tuttell, niece Jen (Derek) Arnholtz, great-nephews Ethan and Wesley, "The College Crowd" and many other cousins, family and friends.
A Celebration of Life is tentatively planned in Scott's memory in July 2021 pending COVID restrictions and guidelines.  Look for updates on social media.  We look forward to celebrating Scott's life with friends, grilling, Cheetos and JOY!
Cremation services provided by Bakken-Young Funeral & Cremation Services.