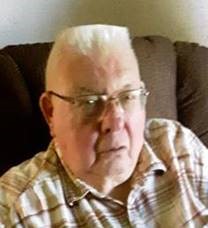 Virgil F. Timm, age 87, died on Sunday, January 9, 2022 at Amery Hospital in Amery, WI. He was born on Saturday, November 10, 1934 at 6:30AM in a log house in Gilman, WI to parents, Vilas and Mildred. Virgil grew up on a small farm and attended school in Gilman. He was baptized and confirmed at Zion Lutheran Church in Gilman. At the age of 15, Virgil's family moved to New Richmond to live on a bigger farm. On February 27, 1956, Virgil married Agnes Phillips. They were blessed with five children, one boy and four girls. Virgil did farm for a short time, but later went to work at Doughboy Mills, however, the dust got the better of him so he began working for Moulton Irrigation for 16 years and as a janitor at Saint Luke's Lutheran Church for six years. In 1979, Virgil worked for the New Richmond Street Department and retired in 2000. He loved hunting and fishing as well as carving, Intarsia, bee keeping, gardening, and petting and giving treats to the granddogs.
Virgil is preceded in death by his parents, Vilas and Mildred Timm; grandson, Vincent; brothers-in-law Leroy Larson, Bernard Colbeth, Mike Larson, and Francis Peichel. He is survived by his wife, Agnes Timm; children, Vernon (Sandy) Timm, Donna Timm, Diane Tainter, Debbie (Gary) Bauermeister, and Dixie (Paul) Erickson; grandchildren, Jessica, Jonathan, Samantha, Joshua, Jeremy, Jesstine, Tate, Travis (Kendal), Tyler and Brianna; great-grandchildren, Hunter, Abigail, Logan, Oakley, Porter, Abel, Vayda, Louise, Olivia and Sophia; siblings, Loretta Larson, Carol Colbeth, and Audrey Larson; and many nieces, nephews, relatives, and friends.
A Memorial Service was held on Friday, January 28, 2022 at 11:00AM at Saint Luke's Lutheran Church (365 W River Drive) in New Richmond, WI with a visitation starting one hour prior to the service. Interment will be in Oakland Cemetery at a later date. The service was livestreamed via a link at the bottom of the obituary. Arrangements are with Bakken-Young Funeral & Cremation Services.