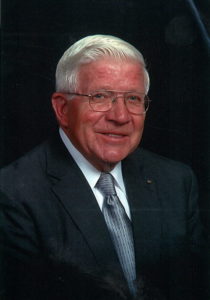 Virgil Wayne Krumm, age 83 of New Richmond, WI, passed away at the Pioneer Nursing and Rehab Facility in Prairie Farm, WI, Monday, January 29, 2018. Virgil was a loving husband, father, brother, grandfather, great-grandfather, uncle, and friend. He was born April 25, 1934 to parents, Helmuth and Hazel Krumm. He graduated from New Richmond High School with the class of 1952. Virgil served in the United States Army from 1954-1956. Virgil married Esther JoAnn Peterson on December 15, 1956 and they were blessed with three children. Virgil retired from DoBoy Packaging Inc. in 1996. Virgil enjoyed camping, hunting, golfing, and dancing, but most of all spending time with the kids and grandkids at the Cabin in Webb Lake.
He is survived by his sons, Keith Krumm of New Richmond and Kevin (Karen) Krumm of Somerset; daughter, Karen (George Garcia ) Pitzen of New Richmond; grandchildren, Alicia Garner, Kyle Krumm, Karl Krumm, Heather (Phil) Hoover, Luke Pitzen; step-grandchildren, Teresa Rogney, Nathan (Angie Swanson) Rogney, Nicholas Rogney; great-grandchildren, Dezi Garner, Kyra Siemers, Kade Krumm, Knox Hoover, Adisyn Pitzen; step-great grandchildren, Rylie Church, Reed Church, Marley Rogney; sisters, Reta Kjeseth, Marlene Granger, Sharon (Frank) Reckin, Beverly Krumm, Gail (Steven) Krey; sisters-in-law, Doris Krumm and Jean Krumm; and many other relatives and friends.
He is preceded in death by parents, Helmuth and Hazel Krumm; wife, Esther Krumm; great-grandchildren, McKayla Garner and Bradley Garner; brothers, Douglas Krumm and Neal Krumm; sister, Marjorie (Orvin) Berget; brothers-in-law, Phillip Kjeseth and Darrell Granger.
A Funeral Service was held Friday, February 2, 2018 at 11 a.m. at First Lutheran Church (218 County Road K New Richmond, WI 54017). Visitation was Thursday, February 1, 2018 from 4-8 p.m. at First Lutheran Church and Friday, February 2, 2018 from 10-11 a.m. Arrangements are with Bakken-Young Funeral & Cremation Services Beebe Chapel of New Richmond.