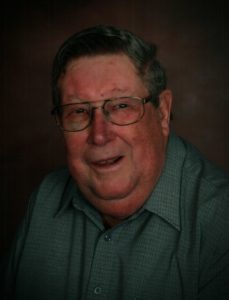 Vilas Marvin Rice, age 86 of New Richmond, WI passed away on December 22, 2017. Vilas was born April 29, 1931 in Eau Claire, WI to Algie and Elizabeth (Berchem) Rice. He graduated from Menomonie High School. He served in the US Army during the Korean War. He was united in marriage to Deloris Hintzman on August 25, 1956 in Menomonie, WI. To this union 5 children were born. Vilas worked at Whirlpool until the plant was closed and then worked at various jobs, the last being GS Electric. While retired, he lent his expertise taking care of the grounds at the New Richmond Cemetery. Vilas enjoyed bowling, going to ballgames, the Packers and just about any sporting event on TV. He especially enjoyed spending time with his grandchildren.
Vilas is survived by his wife of 61 years, Deloris; children, Wanda Rice, Gary (Cindy) Rice, Pamela (Wayne) Sigsworth, and Barbara Rice; grandchildren, Erica (Tim) Pesina, Kaitlyn, Hailey, and Jordan Rice, Aaron (Christina) Sigsworth, Amanda (Jeff) Sigsworth, Tyler (Nicole) Sigsworth, Kayloni (Tim) Sigsworth, and Rebecca Rice; great-grandchildren, Axel Bonsness and Savannah Sigsworth; brothers, Gilbert Rice, LaZern (Jean) Rice, Chester (Robie) King; sister-in-law, Mildred Rice; brother -in-law, Lowell (Lorraine) Hintzman; extended family, Shane and Danny Meyer, Shelley Huber; and many nieces, nephews, relatives and friends. Vilas is preceded in death by his parents, Algie and Elizabeth Rice; son, Jeffrey Rice; grandson, Cole Struemke; brothers, William (Lila) Kirwan and Darrel Rice; sister, Marlene Rice; sister-in-law, Vivian Rice; and brother-in-law, Arnold Hintzman.
A Funeral Service was held on Thursday, December 28, 2017 at 11 am at First Lutheran Church 218 County Road K New Richmond, WI.  Visitation was held on Wednesday, December 27, 2017 from 4-8 pm at the Bakken-Young Beebe Chapel 112 W 3rd Street New Richmond, WI and on Thursday from 10-11 am at the church.  Interment was in the New Richmond Cemetery.  In lieu of flowers, memorials are preferred to the family.  Arrangements are with Bakken-Young Funeral & Cremation Services Beebe Chapel of New Richmond.