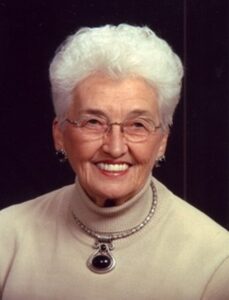 Vernice Mae Evans, age 101 and ¾ of New Richmond passed away on Sunday, November 20, 2022, ultimately succumbing to pneumonia, at St. Croix Health Center. She was born on February 20, 1921, on the family farm near Paynesville, Minnesota. She was the daughter of Charles and Freda Heitke and grew up with her sister Lois, brother Frederick (Bud) and twins Mary and Jimmy Heitke. After graduating from high school at age 16, she became a dental assistant which was also her job in California during WW II before her husband Klayton was shipped off to England where he and his regiment survived their landing on Normandy Beach the second day of D-Day. After the war she and her husband Klayt moved to New Richmond where they owned and operated Evans Shell and Oldsmobile while she did the bookkeeping and they raised their daughters Barbi and Kay. After such interesting jobs as selling make-up and taking the 1960 census for New Richmond, she began more than 34 years of Sales and Marketing for Doughboy Industries, Inc. This was followed by almost 25 years as receptionist, proofreader, columnist and assistant to the editor at The New Richmond News. She loved having a ring-side seat for parades and happenings right on main street of her favorite city in the whole world. She knew how to use the latest iPhone, iPad and computer and even attended Zoom meetings with her family and friends. She was always active with her bridge clubs, golf league and loved singing in her church choir for over 60 years. As a two-time survivor of cancer, she participated in many walkathons and fundraising events. Vernice is the founder of a yearly golf tournament in Paynesville, MN called The Heitke Open. She has traveled the world to Europe, Asia, Japan (3 trips) and celebrated her birthday in Hawaii more than 25 times. A lifelong golfer, she relished having been on the winning hometown ladies league team and had even played the famous St. Andrews course in Scotland way back when she was in her 60s.
Vernice is preceded in death by her parents, Charles and Freda Heitke; husband, Klayton Evans; sisters, Lois Krupke and Mary Schmitt; brothers, Frederick and James Heitke. She is survived by her sister-in-law, Marge Hartmann; children, Kay (Jim) Brennan and Barbara Evans. She is also survived by grandchild, Kristin (Michael) Pursell; great-grandsons, Henry and Franklin Pursell. (Kristin was just elected to the House of Representatives for the state of Minnesota.) Also surviving are her many nieces and nephews. She had a special relationship with nieces and travel companions Kris and Penny Schmitt. "Adopted" grandchildren Megan, Joe and Ben Needham plus Carolyn Tibbets lovingly called her "Grandma Vernice." She cherished her family and friends who visited her home or wherever she was recuperating and brought treats of food and love. But she held a special place in her heart for a wonderful neighbor and friend of many years Julie, and her late husband Mike Walsh.
The family would like to thank the staff of St. Croix Health Center, Touching Hearts care givers, Hospice Lakeview and her many friends and visitors for the care and love she received in these past few months. In lieu of flowers, memorials may be directed to First Lutheran Church or Five Loaves, (44 West Third Street, Suite D, New Richmond) or to a charity of your choice.
A memorial service was held on Wednesday, November 30th, at 1:00 p.m. at First Lutheran Church (218 County Road K) in New Richmond. Visitation was at the church beginning at noon. Interment was private. A Celebration of Life will be announced for a later date in the spring. The service was live streamed via the link below. Arrangements are with Bakken-Young Funeral & Cremation Services.