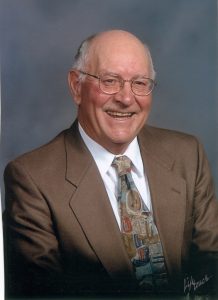 Vernell Skoglund was born and raised in Willmar, MN.   He and his wife, Donna, founded Skoglund Oil Company (New Richmond, WI) in 1967.  Vern was raised in a musical family and he loved to sing solos, in men's quartets and his local choirs.   He enjoyed spending time with friends and family at his hunting shack in Minong, WI, fishing, downhill skiing, golf and relaxing with his wife at his Cable, WI woodland cabin.  A beloved husband of Donna Skoglund, loving father of Steve (Chris) Skoglund, Kristin (Daniel) Tjornehoj, Karen (David) Moen and Karl (Linda) Skoglund, and adoring grandfather of Michael, Sam, Tom, Jessica, Adam, John, Natalie, Luke, Matt, Lauren, and Jamie.
Vern enjoyed serving his church and community in a variety of capacities.  Moving to New Richmond in 1955, he joined the First Lutheran Church and sang in the choir for 59 years.  He served on the First Lutheran Church Council, the New Richmond Hospital Board, Kerr McGee Advisory Board, and the Wild River Association Board.  He was a member of the New Richmond Kiwanis Club, American Legion Post #80, and the New Richmond Golf Club.
Vern was loved, revered and respected by many people throughout the community.  He will be deeply missed, yet left a legacy of service and commitment.
The celebration of life for Vern was held Thursday, December 15 at the First Lutheran Church (218 County Road K) in New Richmond, WI with visitation from 10 a.m-12 p.m., memorial service at 12:00 p.m.  Interment was at the New Richmond Cemetery. A gathering of friends and family was held from 4:00-5:30 p.m. at the New Richmond Golf Club.  In lieu of flowers, memorials to the First Lutheran Building Fund.  Services entrusted to the Bakken-Young Funeral Home of New Richmond, WI.