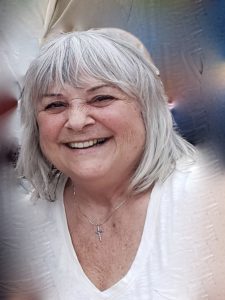 Valerie "Val" Severson, age 66, passed away on Tuesday, September 21, 2021 at Regions Hospital in Saint Paul, MN. She was born the daughter of Elmer and Lorraine Cook on October 24, 1954 in New Richmond, WI. She graduated from New Richmond High School, class of 1973. She married Glenn "Red" Severson on September 1, 1973.
Val spent most of her life working alongside her family at Cedar Lake Speedway but her favorite role was as a homemaker taking care of her family.
She was known for her bright fun-loving smile and infectious laugh. Val loved spending time with her family and friends, listening to music, dancing, laughing, and telling stories. More than anything Val loved spending time with her grandchildren. She absolutely loved being a grandma. Val was an avid sports fan too who cheered on her grandkids in all their sports, especially hockey and baseball. She was known around the rink and baseball field for always cheering the loudest and everyone called her "Grandma Val."
She also enjoyed gardening and tending to her flowers, working out at the Centre with her sisters, making salsa, cooking for her family and friends, camping with Red and the grandkids, spending time at the cabin, riding her Harley, horseback riding, snowmobiling, hunting and just being outdoors. She was always doing something and rarely stopped moving, talking, or laughing. She will be greatly missed by her family and so many others.
Val was preceded in death by her husband, Red; parents, Elmer and Lorraine Cook; brother, Robert Cook; and infant brothers, Joseph and John. She is survived by her daughters, Molly (Ryan) Bjurstrom and Krissy (Michael) Shepherd; grandchildren, Tyler (Ashley) Shepherd, Samuel Christensen, Jens Christensen, Grace Shepherd, and Ella Shepherd; faithful companion and watchdog, Cash "Rooster"; siblings, Donna Skramstad-King, Ted (Sue) Cook, Gary (Jean) Cook, Jan (Larry) DuBois, and Terri (Jerry) Hecht; sister-in-law, Marj Cook; and many nieces, nephews, relatives, and friends. Visitation was held on Thursday, September 30, 2021 from 4:00-7:00PM at Bakken-Young Funeral & Cremation Services (728 S. Knowles Ave) in New Richmond, WI. Graveside service was held on Friday, October 1, 2021 at 11:00AM in Wascott Cemetery in Wascott, WI. Arrangements are with Bakken-Young Funeral & Cremation Services.