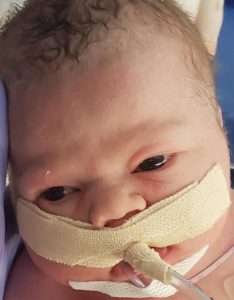 Vada Christine Berg was born on Tuesday, April 26th, at 8:12pm to parents Phillip Berg and Meshell Gross at Children's Hospital. She weighed 6 pounds, 6 ounce and was 19.5 inches long.
Baby Vada's family was blessed to be a with Vada for three days before she went to her heavenly home on April 29th at 10p.m. Vada experienced a lot of holding hands with her mommy and daddy and 2 sisters. She got many hugs and kisses from her family, and got to listen as her mommy and daddy played her songs and read some books. And of course we all had to let her know "I love you" an uncountable amount of times.
Vada will be remembered as our angel in heaven waiting for the day we return home also to see her. We know until then she will be our guardian angel watching over family and friends.
We love you our sweet angel Vada Christine Berg.
Visitation was Friday, May 13, 2022 from 3:00 – 4:00 pm with a service at 4:00 pm at Bakken-Young Funeral & Cremation Services 728 S Knowles Avenue New Richmond, WI.  Arrangements are with Bakken-Young Funeral & Cremation Services.