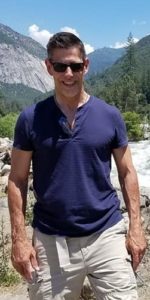 Thomas Willliam Humphrey Sr., age 61, died on Saturday, January 8, 2022 at Select Specialty Hospital in Madison, WI. Tom passed peacefully surrounded by his wife Mary and several of his children. He was born August 21, 1960 in St. Paul, MN, and he was the second youngest of four children, born to James and Marie Humphrey. He is preceded in death by his brother John, his father Jim, and his mother Marie.
Tom loved adventure. He traveled across the country with his wife and seven kids, crafting memories that will carry us forward. He planned a trip, that he affectionately called "The Great Tumbleweed Roadtrip," where he meandered through the mountains, into deserts, and across the Great Plains; and whenever he went south, he never missed his chance to go to a Waffle House.
He was an avid, amateur Videographer and Photographer. We would make it to a stop in Yellowstone National Park, or Beartooth Pass, or one of the many beaches we went to; the kids would pile out of the car and he would start up one of his videos saying, "Well here we are…." and end with "signing off for now." He loved capturing the moment, and his family couldn't be more thankful for the memories he would encapsulate.
He loved the Great North Woods where he and his brother John took their families camping. These two brothers would bring their gas-powered griddles and wake all 13 children up with the smell of bacon, eggs, hash browns, and pancakes. There was nothing like sitting around an early morning fire, eating a meal cooked by these master chefs, listening to the sound of the wilderness, and surrounded by the people you loved most. This was where Tom flourished.
Tom got his mother Marie's talent for cooking and her love of family. On Sundays after church you could find him in the kitchen with his wife Mary, cooking for his seven kids and twelve grandchildren. His home was always open to everyone, and it was never quiet in the Humphrey household when we all got together. He was always ready with a joke, kind words, or an ear to listen.
One saying you would often hear around the house was "Many hands make hard work light." He was always there to help his kids, whether it was moving to Alaska or fixing things around their house. He was a man of action and faith and taught his kids what a good man was by showing them.
Tom is survived by his wife Mary; brothers Bob and Jim; children Josh, Kirsten, Thomas, Chrysa, Cassie, Daniel, and Kalley; grandchildren Joshua, Annabelle, Mikko, Aurora, Kora, Emersyn, Jonah, Will, Killian, Jakob, Jeremiah, and Mila. He is further survived by various relatives and friends.
A Mass of Christian Burial was held on Tuesday, January 18, 2022 at 10:30 am at St. Agnes Catholic Church (535 Thomas Ave) in St. Paul, MN. The service will be livestreamed via a link found at the bottom of the obituary.  Visitation was also Tuesday from 9:30-10:30 am at the church.  Interment ws in Guardian Angel's Catholic Church Cemetery in Oakdale, MN.  Arrangements are with Bakken-Young Funeral & Cremation Services.
Click here to watch Thomas' recorded Mass of Christian Burial. Due to the acoustics of St. Agnes Church the sound has a lot of reverberation.