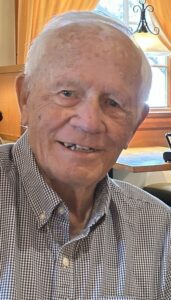 Thomas Edward Caflisch
Tom met Jesus, his Savior, on September 19, 2023. Born on August 4, 1938, to Glenn and Vi Caflisch in Baraboo, Wisconsin. Tom graduated from Baraboo High School in 1956 and served in the U.S. Navy from 1957 – 1961. He married Judith Schaefer on August 6, 1960. Tom graduated from Wisconsin State University – River Falls (now UWRF) in 1965.
Tom was a member of many civic organizations, including Habitat for Humanity, River Falls City Council, St. Croix County Board, Pierce County Board and the American Legion Post 121.
After retirement, Tom delighted in being a volunteer coach for the UWRF football team for 21 years. His hobby, in retirement, was making wooden cremation urns, many of which were rosemaled by his friend, Audrey Iverson.
Tom was a faithful member of Ezekiel Lutheran Church for 56 years and Luther Memorial Church for the past 2 years.
Tom is preceded in death by his parents, Glenn and Vi Caflisch, and sister, Mary Adams.
Tom is survived by his wife of 63 years, Judie Caflisch; daughters, Jill (Pete) McCarthy, Jodie (Mike VanderZanden) Henning; and son, Andy (Shannon) Caflisch. He is also survived by grandchildren, Chad (Courtney) Henning, Sam Henning, Josh Henning, Jaime (Nate) Kleppe, Jordan Lammer, Jenna (Jake) Knotek, Trevor Caflisch, Natalie Caflisch; great-grandson, Cohen Kleppe, bonus grandchildren, Sarah Feuchtenberger, Alex McCarthy; bonus great-grandchildren, Isaiah, Norah and Isla Feuchtenberger; plus, many other family and friends.
A private Christian/Military service was held on Sunday, September 24, 2023, at Greenwood Cemetery. Those wishing to honor Tom joined the family at the American Legion Hall, 701 N Main Street, River Falls, WI between 5:00 – 8:00 pm for Tom's requested celebration of life, meal and entertainment.
In lieu of flowers, memorials may be directed to the American Legion Post 121 Scholarship Fund or Luther Memorial Church Families in Need Fund.
Thank you and God Bless you!!