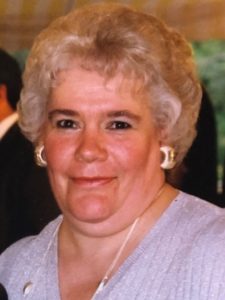 Teresa Mary (Grassy) Betterley
August 18, 1947 – April 12, 2020
Terry at the age of 72 Passed away Peacefully Sunday morning April 12, 2020 at Deerfield Gables, New Richmond, WI where she has resided for many years, living with the daily battle of Parkinson's now she at peace with her heavenly father.
Terry lived most of her life in Wisconsin, Minnesota, and some time in Arizona. Her Career as a Nursing Assistant and a Dietary Aid, gave her much joy for life. She loved spending time with family and friends playing card or bingo, her love for animals was endearing. She will always be remembered for her beautiful smile and her kind heart.
She was preceded in death by her parents, Frank and Romana (Winkler) Grassy, and mother in-law, Esther Betterley, step-son, Kim Betterley. She is survived by her husband, Albert Betterley of New Richmond, WI, her children, Ramona (Luis) Coppelli, granddaughter Catalina; George Rosenwald, Robert Rosenwald; brother, Thomas (Barb) Grassy; step-children, Beth (Donald) Williams, grandchildren Jason, Samantha, Robert, Marlena and many great-grandchildren; Brian Betterley, grandchildren, Amanda and Adam; Melanie (Scott Levi) Betterley, grandchildren, Monique and Morgen; Jeff Betterley.
Services will be on a date to be determined in the spring of 2021 at St. Luke's Church in New Richmond. In lieu of flowers, memorials may be directed to The Salvation Army.  Arrangements are with Bakken-Young Funeral & Cremation Services.