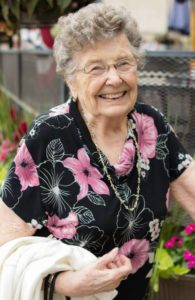 Thelma Standaert, age 93, died on Friday, June 17, 2022 at The Deerfield-Independent Living in New Richmond. Thelma Johanna (Hansen) Standaert was born July 14th 1928 in New Haven Township, the first of four children to Roy and Erbanie Hansen.
At a young age, Thelma's father passed away when the family lived out West. Thelma's mother moved the young family back to Glenwood City where she would grow up. While Thelma became a wife to Francis (Frank) Standaert and mother to Susan at an early age, they were roles that she cherished.
Thelma and Frank raised their daughter in New Richmond living in various houses all around 3rd Street. Thelma never graduated high school, but had wonderful careers working at Friday's Canning, Daylight Store, JC Penny Store, and finishing at The Bank of New Richmond for many years. She was also a member of the Greaton's Jewelry bowling team earning many trophies.
She and Frank enjoyed traveling, but mostly snowmobiling many miles up North. Upon retirement, their passion was going to auctions and selling their treasures at the Pea Pickin' Flea Market. With weekly competitions between the two as to who sold the most or made more money.
After Frank's passing in 2012, Thelma moved from 3rd Street to the Deerfield. She was able to play many games of cards and bingo. She will be remembered by family and friends for her gardening and canning, (especially pickles and sweet corn), her love of cats, feeding the neighborhood squirrels and birds, teaching all grand and great- grandchildren card games, watching basketball, spectacular christmas treats and special birthday dinners with Jello cake.
She is preceded in death by her parents, loving husband of 67 years, Frank, siblings: Marge, Chuck and Millie, and great-granddaughter Jayme.
She is survived by daughter Sue (Ted) Cook; Grandsons and their families: Greg (Colleen) Nicki (Drew) Jacob & Jaxon, and Branden; Bryan (Kim) Breanna (Jared) Brody, Blair, & Rory, Chelsea (Mike) Iva & Clark, Connor, and Banner; Kelly (Jeri) Grant and Gage. Sister-in-law June Hansen. Along with many extended family members and friends.
A Visitation was held on Thursday, June 30, 2022 from 4:30-7:30PM at Bakken-Young Funeral & Cremation Services (728 S Knowles Ave) in New Richmond. Private family interment was in Immaculate Conception Catholic Cemetery in New Richmond. Arrangements are with Bakken-Young Funeral & Cremation Services.