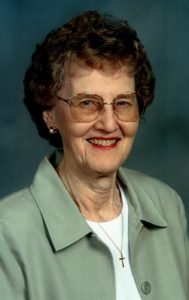 Thelma C. Lundgren passed away April 11, 2022 while in hospice care at Spring Valley Health & Rehabilitation Center at the age of 96. Her daughter, Carol, was with her and she spent her last days surrounded by family and friends.
Thelma was born on Nov. 16, 1925 to Melvin & Clara (Larson) Larson at home in the town of Martell. She and her brother, Irvin, who was one year older, attended school for the first time at the Kay School. She often spoke about starting school knowing only her native Norwegian and skiing through the drifts to get there.
She and her family eventually settled permanently on a farm just west of Spring Valley in the town of Gilman. After graduating from Spring Valley High School, Thelma worked in a café and as a bookkeeper before meeting her lifelong dance partner at a local dance. Thelma married Harlan Lundgren on May 27, 1947 at Gilman Lutheran Church. They settled on Harlan's home farm just north of Plum City where they raised three children: Ronald, Eldon and Carol.
Harlan and Thelma worked hard on the farm and she often said she didn't know how she got it all done. She was an excellent housekeeper, cook and baker, but also rolled up her sleeves to help with the milking, haying, gardening and countless chores a farm requires. She was an active member of Ono Methodist Church for many years before she and Harlan sold the farm and moved to rural River Falls in 1975.
When she and Harlan moved to River Falls, they made their home on a hobby farm east of town. Thelma took a job at Smead Manufacturing in River Falls, where she worked for 17 years. She made many friends there and they all kept in touch. She also made many dear friends at the United Methodist Church of River Falls and later at Ezekiel Lutheran Church. She was especially grateful to the friends who brought her comfort in the Ruth Group.
Thelma loved music and had always wanted to play the piano, but couldn't take lessons as a child. She was too busy on the farm, so she saved her dream until she retired. She made up her mind at nearly 70 that she was going to learn to play the piano, and she did. Her family will be forever grateful to her dear friend and neighbor Keith Brux for teaching her to play the piano. She was a natural.
Thelma was also an avid walker and enjoyed her daily walks up and down Saddle Club Road. Neighbors would often stop to chat with her. In their younger years, Harlan and Thelma could often be found at area dances, where they loved cutting a rug to Big Band music. It was a treat for family members to see them dance at weddings.
She was an expert Norwegian baker, and passed her recipes and techniques for lefse, krumkake and rosettes to her son Ron and her grandson Matt, who are almost up to her level. She is also remembered for her fresh baked bread smothered in strawberry jam and peanut butter chocolate chip cookies. A cup of coffee had to be accompanied by a sweet treat and a good visit; she loved visits from her grandchildren and great-grandchildren especially and was proud of their accomplishments.
Thelma was preceded in death by her parents and brother, Irvin; husband, Harlan; son, Eldon; Harlan's siblings Lavern (Lorena) Lundgren, Marie (Wesley) Fetzer and Lorraine (Russell) Noyes; and many aunts, uncles and cousins.
Thelma is survived by son Ronald (Katherine) Lundgren, of River Falls; daughter Carol Matara, of River Falls; grandchildren: Matthew (Amanda) Lundgren of Boise, Idaho; Mark (Valerie) Lundgren of River Falls; and Sarah (Shane) Nigbor of Menomonie; and great-grandchildren Parker, Ella, Marleah and Harlan Lundgren, Carolina Young, and Ethan, Dawson and Lincoln Nigbor; sister-in-law Betty Larson of Elmwood; and nieces and nephews.
A memorial service was held at 11 a.m. Wednesday, April 20 at Ezekiel Lutheran Church in River Falls, followed by a luncheon. A memorial visitation was held one hour prior to the service at the church. Interment was in Greenwood Cemetery in River Falls.  In lieu of flowers memorials are preferred. Arrangements are with Bakken-Young Funeral & Cremation Services of River Falls.