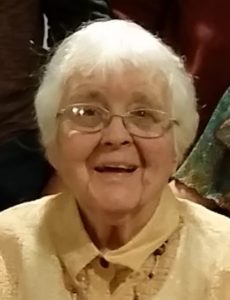 On June 3, 2022, Susie M. Pierson, wife, mother, daughter, and sister, passed away from kidney failure at the age of 96 years.  She is survived by her children, Richard (Tina) Pierson, Gail (Judy) Pierson, Thomas Pierson, and Kathryn (Tad) Jennings, as well as by her grandchildren, Sam, Dan, Carrie, Joel, Ross, and Zoë, and her seven great-grandchildren, Truly, Calvin, Basil, Clara, Amora, Reuben, and Theia Pierson. She is preceded in death by her husband of 71 years, Ross, and all her siblings, five brothers and one sister.
            Born on a farm near Webb, Iowa to Floyd and Emma Davis in 1925, Sue grew up in Marathon, graduating from Marathon High School, an institution she always remembered fondly.  She attended Buena Vista College in Storm Lake, completed the requirements for her teaching certificate, and went on to teach 4th grade in Lytton, Iowa.  It was in Lytton that she met her future husband, Ross, who was newly returned from his WWII army service.  In 1948, they married at the Little Brown Church in the Vale near Nashua, Iowa.  In the years immediately following, she and Ross farmed near Rockwell City, Iowa, and during that time she gave birth to three sons: Richard, Gail, and Tom.  In 1956, Sue moved with her young family to their newly purchased Wisconsin farm in the town of Rush River, St. Croix County.  In 1960, daughter Kathryn was born.  All four children graduated from Baldwin-Woodville High School.
            Sue consistently involved herself in educational, humanitarian, and civic efforts. She taught piano, and sometimes played accompaniments for her New Centerville United Methodist Church.  For a time, Sue was Sunday School Superintendent, and at another point served as a delegate to the Wisconsin Annual United Methodist Conference.  She also served as President of the Baldwin Public Library Board, and was the general leader of the 63 Go-Getters 4-H Club. Sue was also active in both Methodist Women's Fellowship and Club 63 Homemakers for many years of fun-filled meetings with good friends.
            Sue and Ross retired from the farm in 1994 and moved to River Falls, then to the Baldwin Care Center in 2017.  Her full and rewarding life was marked by pride in and loving support of her family, as well as respect and kindness for all she encountered.  Sue related to new people in her life naturally and gracefully, and during her long life, cultivated many enduring friendships. She will be greatly missed and fondly remembered by her family, her many friends, and her community.
          A memorial service was held Saturday, July 30, 2022 at 2:00 pm at Bakken-Young Funeral & Cremation Services (805 E Division St.) in River Falls.  Visitation was also on Saturday from 1-2 pm at the funeral home.  Interment was in Mt. Olivet Cemetery in New Centerville, WI.  Arrangements are with Bakken-Young Funeral & Cremation Services.