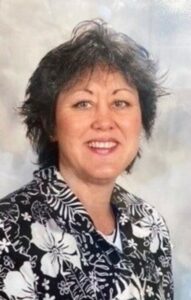 Susan M. Knutson, age 61, of Prescott, died unexpectedly at her home on Wednesday, January 18th 2023. Susan was born on March 26th 1961 in Lanesboro, Minnesota to Helen and E. Eugene Anderson. She graduated from Preston High School in Preston, MN and then attended Luther College in Decorah, Iowa. On May 19th 1984, she married John Knutson, the love of her life and her best friend with whom she shared life's greatest moments.
Susan worked at KinderCare for 33½ years in Woodbury, MN, serving nearly 10,000 children and families. Susan's center was a training center where she trained district leaders, regional vice presidents, and many of KinderCare's center directors. Susan loved children and selflessly championed their needs. Her sincerity, passion, hugs, and love for people—and for life in general—was exhibited each day with her colleagues, family, and friends. At KinderCare, she formed lifelong friendships and enriched the lives of her employees as a leader, mentor, and friend.
She drew much of her zeal for life from the Joy Lutheran Church where she was a devoted member of the Bell Choir. She was drawn to the camaraderie and enriched the group to such an extent that others joined because of her. Indeed, her infectious smile lightened any room and she was oh-so positive, always looking on the sunny side of life. She loved to laugh, had a quick wit, enjoyed planning, had a passion for cooking and gardening, cherished the good life, and always loved being with people.
Susan was an avid Packer fan which created a huge rivalry with her Minnesota siblings. When Ben graduated from high school, all the Packer memorabilia was turned upside down or backwards at his party by the family. So many memories of Susan—having chicken pox growing up and thinking it was from the chickens on the farm; siblings being late for the school bus or church due to the need for Susan (and her sisters) to dry her hair over the oven door; the many 4-H fashion revues; the memory of Susan wanting to lose a tooth like her sister, so would knock her top teeth on the headboard hoping to jar one lose—these memories and more bring joy to us as we mourn her loss. Susan was a wonderful sister! She will be missed by so many.
Susan loved her extended family and looked forward to getting together around campfires, at her childhood family farm, or for family or neighborhood celebrations where everyone was welcome. Susan was a loving, warm, and fun grandmother to Rebekah and Hayden, whom she adored. Susan and John had plans to move to Iowa this spring to be closer to Ben, Kristine, Rebekah, Hayden, and her sister, Gretchen.
She is survived by her husband, John; one son, Benjamin (Kristine) of Marion, IA and two grandchildren, Rebekah and Hayden; one brother, Tom (Karen) of Plainview, MN; three sisters: Gretchen (Richard) Hartwig of Colo, IA; Kathryn (Pastor Norman) Wahl of Rochester, MN; and Carolyn (Brian) Hoff of Detroit Lakes, MN; and nine nieces and nephews. She was preceded in death by her grandparents, parents (Helen and E. Eugene Anderson), a brother, Todd, and a sister, Heidi.
A memorial service was held on Sunday, January 22th 2023 at 1:30pm at Joy Lutheran Church (1435 St. Croix Street) in Prescott with a reception following the service. Memorials will be donated to the Bell Choir at Joy Lutheran Church. Arrangements are with the Bakken-Young Funeral & Cremation Services.
Click here to watch the recording of Susan's service.