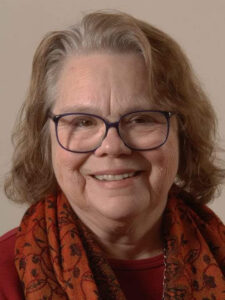 Sue Beckham, died on Monday, November 7, 2022 at North Memorial Hospital in Robbinsdale, MN.
In the 10 days between the unexpected loss of Dick, her husband of 61 years, and when she stopped breathing on November 7, 2022, Sue Bridwell Beckham faced her situation with a strong spirit, noting often, "I've had a really good life."
Her early years were difficult. At age 8, in Cynthiana, Kentucky (also her birthplace, March 16, 1939), she lost her father, Guy Leland Bridwell, and her baby brother, Guy Leland Jr. This strife faced by her and her mother, Shirley Mae Summers, likely contributed to Sue's fierce advocacy for the underdog. Throughout life, she approached work and leisure with a sense of urgency.
Sue earned her undergraduate degree while at Georgetown College, KY. During her master's program at the University of Mississippi, she met Dick Beckham. Though the two of them held distinct identities, their marriage was a tender partnership, with a deep commitment to one another's needs for dignity, trust, and joy.
Upon completion of her English degree, she earned tenure at UW Stout, at one point taking a four year leave to earn her doctorate in American Studies at the University of Minnesota. She later reworked her dissertation into her book, A Gentle Reconstruction: Depression Post Office Murals and Southern Culture. She relished her academic career and the rare opportunities it afforded, such as weeks away from family to pour through letters in the National Archives in Washington, DC. Still she found time to sew costumes, ensure her children's access to the arts, and prepare meals from scratch.
Years of happy retirement included travel, grandchildren, and community work dedicated to progressive causes. She is survived by her three children, Rich, Aran, and Jennifer, their spouses, Amy, Lori, and Paul, and her grandchildren, Elizabeth, Charlie, Emily, Cole, Tessa, Nicholas, and Alia.
In lieu of flowers, memorials may be directed to Community Arts Base (Click here to donate), River Falls Library Foundation (140 Union Street River Falls 54022), or UWRF English Department (Click here to donate) (Choose college of arts and sciences and in description put in UWRF English Department-Sue Beckham). A Celebration of Life will be held on Friday, December 9, 2022 at 2:00PM at Bakken-Young Funeral & Cremation Services (805 E Division Street) in River Falls with a visitation starting at 1:00PM. A reception will follow at Junior's/Radisson Legacy Ballroom (100 Spring Street) with hors d'oeuvres provided. Arrangements are with Bakken-Young Funeral & Cremation Services.
Click here to watch the livestream of Sue and Dick's service.