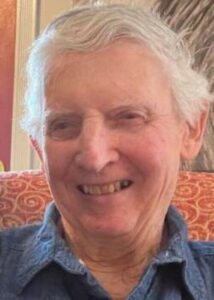 Stephen B. O'Connell, aged 91, passed away on October 20, 2023 at home surrounded by family. He was born December 15, 1931 to William and Sandra (Olson) O'Connell and raised in Elmwood, Spring Lake Township, in Pierce County. He attended Spring Valley High School. Stephen married Beverly Ruth Hop on October 4, 1952, at the Little Brown Church in Nashua, Iowa.
Stephen served in the U.S. Army 9th Infantry in the Korean War Conflict from November 20, 1952 to October 21, 1954. For his service, he received awards for: Korean Service, a Bronze Star, United Nations Service Metal, and the National Defense Metal.
He spent his career building and remodeling many homes in the New Richmond and St. Croix County area as a contractor. He worked for Harry Hop, Wayne Coleman, and progressed to an independent contractor working with Al Strumke and others.
In his leisure time, Stephen loved bowling and was in the First Hall of Fame Class of honored New Richmond bowlers. He enjoyed family and friend gatherings and had a passion for camping. Later in life, he bought acreage in the Hertel area and was comfortable relaxing at his cabin with family. He enjoyed deer hunting, working on his vehicles, lawn care, watching the Packers play, and watching CMT and Wheel of Fortune on TV. But his proudest accomplishment was raising a family of eight children and playing with grandkids and great grandkids.
Stephen will be remembered for always putting family first, teaching us that hard work is a way of life and to always give 110% of your effort. He was a devoted Father and husband to Bev throughout their marriage.
Stephen is survived by eight children: William (Rachel) O'Connell, Kim O'Connell, Kathie O'Connell (Dale Davis), Laura O'Connell, Patricia (Mark) Peters, Sandra O'Connell (Greg Rudd), Kelly (Chris) O'Flanagan, Michelle (Curtis) Henke. Sisters-in law, Winnifred Nelson and Clarice Erickson. He also leaves behind 20 grandchildren, 17 great-grandchildren, and many nieces, nephews and special friends.
Stephen was preceded in death by: his wife Beverly, granddaughter Tarah Wickenhauser, parents William and Sandra O'Connell, brothers, George, Ed and Gerald O'Connell, sisters Winnie Halverson, June Bockman, Allene Evanson, Betty Hawkins, in-laws, Harry and Ruth Hop, brothers-in law, Bruce Hop, Roger Nelson, Jack Doyle, Ronnie Bockman, Ted Halverson and Paul Hawkins.
Memorials will be sent to the New Richmond Meals on Wheels Program. Flower arrangement ordering is recommended through Avalon Floral in Eau Claire, WI.
An Open House for Stephen was held on Saturday, November 4, 2023 from 1:00-3:00PM at Bakken-Young Funeral & Cremation Services (728 S Knowles Ave) in New Richmond with an informal ceremony starting at 2:45 and followed by Military Honors. A Reception was held from 3:00-6:00PM at the American Legion Butler Harmon Post 80 (1260 Wall St) in New Richmond. Interment will be in Boardman Cemetery at a later date.
Arrangements are with Bakken-Young Funeral & Cremation Services.