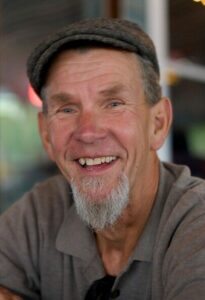 Stephen John Kaminski, age 69, unexpectedly passed away in an accident on July 24th, 2023. He meant so much to so many people, and will continue to live on through his family, his friends, his mentees, the music he made and his work. Words cannot do his memory justice.
Steve was born on August 24th, 1953 in Evergreen Park, Illinois to Joseph and Marie Kaminski. He was the youngest of four children. His childhood years were filled with memorable (and often mischievous) experiences with his friends from the neighborhood (95th and Kedzie), as well as weekends at his grandparents' farm near Culver, Indiana.
When Steve was 13, he tragically lost his mother to a brain tumor – a loss that would have a lasting impact.
In the late 1960's, he went on to explore the country west of the Mississippi with his friends, eventually following his brother Mike to River Falls, WI in the early 1970's. River Falls became his home and he began to build countless friendships, a family and a career – all of which became his pride and joy over the years.
Steve struggled with alcohol and addiction into his twenties, and eventually achieved lasting recovery through the fellowship and support of the AA program. Steve followed the 12-step program with humilty for more than 42 years, and helped many others on their path to recovery. Steve's family will be forever grateful for his commitment to recovery and growth.
The stability he worked for created a foundation for the next chapter of his life. He met his wife-to-be, Sarah at a poker game in 1978 and they were married in 1981. They were blessed with a beautiful family that has grown to include four grandchildren. Steve generously filled their lives with love, joy and an appreciation of the outdoors. Steve and Sarah loved hiking, biking and exploring together, and all their time spent with family. They also enjoyed checking out live music, locally, but also in Chicago and wherever they traveled.
Steve was an exceptional blues harmonica player – he was so talented, and he played straight from his heart and soul. In his late teens, he hitchhiked from place to place with a harmonica in hand, learning to play his favorite tunes. In 1980, being newly sober with a growing family and career, he steered clear of the bar scene which brought his playing to a halt. In 2005, Ky and Taylor gave him a Green Bullet microphone for his birthday and his passion for playing was reignited. Steve sang and practiced on his harp every day, especially in recent years. Most often, he would accompany the Back Channel Blues Band and the Howard "Guitar" Luedtke and Blues Max bands on stage, both of which he loved. He also had so many fun and memorable gigs with other musician friends.
When it came to work, drywall was Steve's calling. He started his career in the union, working mostly on commercial jobs in the Twin Cities. After a handful of years on the job, he decided it was time to go into business for himself. He took a leap of faith and started KT Drywall as owner and operator. He quickly gained a reputation for the quality of his craft and made a career out of word-of-mouth recommendations for his services. Often regarded as an 'artist' in the trade, watching him tape and mud was mesmerizing.
Steve and Sarah welcomed their first son, Silas in 1984. Silas developed health issues and sadly passed away at four days old. Two years later, they welcomed their son Ky, followed by another son Taylor in 1988. Steve was a very loving and involved dad. He enjoyed throwing the ball around in the yard, coaching their little league teams, and taking the boys fishing whenever possible. Sunday drives and road trips were some favorite family activities, creating memories his family will always hold close.
Nothing brought Steve more joy than being a grandpa. With four grandkids in the span of four years, Steve embraced and enjoyed the chaos! He was always smiling and wasn't afraid to be the silly Grandpa. There were many park days and wagon rides around town, as well as quiet moments and cuddles. He will be missed immensely by his family.
Steve lived a full life, taking care of himself and others. He enjoyed his daily rituals, which included coffee, going for a run and so much more. He valued time with friends from all paths in his life. He found happiness in what each day had to offer.
Steve is survived by his wife of 42 years, Sarah, his sons Ky (Lauren) and Taylor (Steph), and his grandchildren, Eli, Brynn, Rhys and Kellen, his stepmother Shirley and his brother Joe (Janet). He is preceded in death by his infant son, Silas, his mother, Marie, his father, Joseph, his brother Mike and his sister Teresa.
A celebration of Steve's life was held at Juniors in River Falls on Friday, September 8th from 3-7 pm, with a memorial service beginning at 3:30pm – music and fellowship followed the service. In lieu of flowers, the family requests memorials be made to St. Jude Children's Research Hospital. Arrangements are with Bakken-Young Funeral & Cremation Services.
Click here to watch Steve's memory sharing service from September 8th at 3:30pm