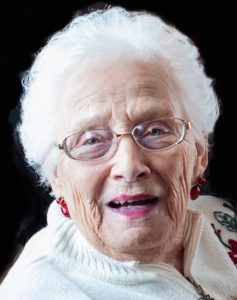 Shirley Jean Anderson Wilkinson passed away August 9, 2016, at the Deerfield Gables Care Center in New Richmond, WI at age 90. She was the daughter of Robert and Lillian (Westlund) Anderson, born in the Old Swedish Hospital of Minneapolis, MN on October 8,1925. She lived in Duluth for most of her childhood and graduated from Duluth Central in 1942. She married Gordon "Gordie" Wilkinson on May 25, 1946. From Duluth the family moved to New Jersey in 1964 where Gordie worked on Wall Street for two years. They moved back to Minnesota to Lake Minnetonka, then back to Duluth to Congdon Blvd. across from Lake Superior, then to a lake home near Minong, built by Gordie. They ended up back in the Twin Ports in a townhouse on Barker's Island. They were "snow birds" for many years, wintering in Hudson, Florida and had a happy marriage of 59 years.
She was a charter member of the Lutheran Church of the Good Shepherd in Duluth and was very involved in leadership activities of the Women's Circle. She worked for H&R Block during tax season for several years in Superior, WI, and was an Avon lady in Duluth.
She has resided at the Deerfield/Gables complex of Presbyterian Homes in New Richmond for the past eight years.
She is preceded in death by her husband, her first son Mark, her parents and brother Bobby Jr. She is survived by daughters Jeanne Wilkinson (Frank Lind), Sherry (Brett) Cook and son Daniel (Angie) Wilkinson, grandchildren Aaron Yonda (Courtney Col-lins), Andrew (Jennifer) Keeley Yonda, Shannon (Michael) Robinson, Derek (Alicia) Campbell, Allison Cook and Chris Cook (Megan Stevens), and three great-grandchildren, Arya and Kellen Campbell and Elliott Keeley Yonda, sister Carole McQuade and brother Rodney (Elaine) Anderson.
Shirley has always loved to turn a house into a home where she welcomed family vis-its with open arms and a roast in the oven. She's been a wonderful grandmother, playing endless card games and knitting all the mittens a kid could ever dream of. They al-ways lived on a lake so swimming, boating, skating and sledding were part of the fun. Family meant the world to her, and we will miss her greatly.
Services were held in the Forest Hills Cemetery Chapel in Duluth, MN on Sunday, August 14, viewing at noon, services at 1PM. In lieu of flowers, memorials preferred.