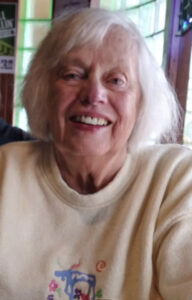 Shirley JoAnn (nee Johnson) Rosengren, age 92, died on Sunday, May 7, 2023 at Kinnic Health and Rehab in River Falls. She was born the daughter of John and Clara Johnson on November 2, 1930 in Minneapolis, MN. Shirley grew up in Minneapolis, graduating from Washburn High School, class of 1948. Following high school, Shirley attended the University of Minnesota where she met her husband, Axel Dean Rosengren. They eloped and married in Boise, ID, on November 29, 1949. Shirley worked as a dental assistant and a secretary. She also worked in early childhood family education. Shirley loved gardening, "digging in the dirt," crocheting blankets and rugs, and spending time with her grandchildren. She also enjoyed golfing, bowling, and playing cards. Shirley's favorite holiday was Christmas. She loved buying gifts. Shirley was a persistent, strong-willed Norwegian. She loved feeding family and friends, "there were always leftovers."
She is survived by her children, Kerry (Jeff) Nelson, Janet (Hugh) McLeod, Jay (Carol), Kelly (Mark) Poff; grandchildren, Jacob (Brenda) Nelson, Stacy (Peter) Bahr, Jon (Nicole) Paulson, Jenna (Shawn) George, Jessyca Paulson, Sarah Spiess, James (Tepkulaya), Marcus Poff, Erik (Laurel) Poff; great-grandchildren, Sam and Megan Nelson, Jackson and Maxwell Bahr, Roseanna Paulson, Eric McLeod, Dominiq, Landon and Yuiko Spiess, Malachi, Micaiah, Joah, and Jocelyn Rosengren, Joseph and Holly Poff; and many other relatives and friends. Shirley is preceded in death by her husband, Axel Dean; parents, John and Clara Johnson; siblings, Kenneth (Amy) Johnson, Errol (Vivian) Johnson, Donald (Sally) Johnson, Harvey (Jane) Johnson and Ilene (Roger) Hanson.
A Funeral Service was held on Monday, May 15, 2023 at 11:00 AM at JOY Lutheran Church (1435 St Croix Street) in Prescott with a visitation one hour prior to the service. A Luncheon followed the service. Interment was the next day in Fort Snelling National Cemetery in Minneapolis, MN. Arrangements are with Bakken-Young Funeral & Cremation Services.
Click here to watch the recording of Shirley's service.