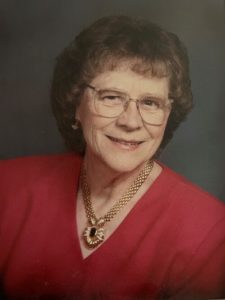 Shirley LaVerne Peterson, age 94, passed away at Comforts of Home in River Falls, Wisconsin on October 10, 2021. She was born July 24, 1927, in Rush City, Minnesota, the tenth of 12 children, to Charles and Edith (Wahlberg) Keiser. She graduated from Rush City High School in 1946, and then attended Swedish Covenant Hospital School of Nursing in Chicago, Illinois, and became a registered nurse. After graduation from nursing school, she moved to Minneapolis, Minnesota, and worked at Lutheran Deaconess Hospital. She married Vernon Peterson on October 27, 1951, in Rush City, Minnesota. They lived on a farm in rural Ellsworth, Wisconsin, where they raised three children, Patsy, Kevin, and Keith. In 1983 they sold the farm and moved to River Falls, Wisconsin. In 1962 Shirley went back to work as a registered nurse at St. John's Hospital in Red Wing, Minnesota. In 1967 she was hired as a public health nurse for Pierce County, Wisconsin, where she worked until her retirement in January of 1990. She enjoyed working in public health; going to patients' homes to help them, and being a school nurse to some small school districts in the area. She made many lasting friendships in her position there.
Family was always very important to Shirley, not only her husband and children, but also her brothers and sisters and their families. There were many weekends or Sunday afternoons traveling to Rush City, Milaca, Minneapolis and St. Paul, Minnesota spending time with all of them throughout the years. She and Vernon also liked to travel, and for many years they would travel to different parts of the country with their children for two or three weeks every summer. They always had some sort of camper or trailer. Many wonderful memories were made.
Shirley was an avid quilter, making quilts for all of her children, grandchildren, great grandchildren, and friends. She was a member of Zion Covenant Church in Ellsworth, Wisconsin, for many years, and in more recent years attended 1st Covenant Church of River Falls, where she was active in Bible Studies and MOPS. Shirley had a deep Christian faith and love of God. She was a prayer warrior for her family, friends, and people in need. The fervent desire of her heart was that everyone in her family and all her friends would come to know Christ as their personal Lord and Savior.
She is survived by her three children: Patsy (Jerry) Nelson, Kevin (Mary) Peterson, and Keith (Julie) Peterson. Eight grandchildren: Shannon (Andy) Caflisch, Scott Nelson, Aaron (Jesse) Nelson, Tyler (Cassy) Nelson, Stephanie Peterson, Lexie Peterson, Anna Peterson, Josh Peterson. Nine great grandchildren: Trevor Caflisch, Natalie Caflisch, Cody Nelson, Jasmine Nelson, Eliseo Carbajal-Nelson, Esdras Carbajal-Nelson, Ingrid Nelson, Alva Nelson, and Etta Nelson. One brother, Blaine Keiser, and one sister, Arlyce Smith.
She was preceded in death by her parents, her husband, Vernon, sisters Mildred Swanson, Alma Boeck, Vera Wendt, Myrtle Richard, Lorraine Smith; and brothers Raymond Keiser, Herbert Keiser, and Clifford Keiser, and their spouses. Her brother-in-law and sister-in-law Marvin and Jean Peterson.  A Celebration of Shirley's Life was held on Sunday, October 17, 2021 at 4 pm at the First Covenant Church 1374 N Main Street River Falls, WI and streamed live through the link just below this obituary.  Visitation was also on Sunday from 3-4 pm at the church.  Private interment was in the Bethel Covenant Church Cemetery in Ellsworth, WI.  Arrangements are with Bakken-Young Funeral & Cremation Services.
click here to watch the recording of Shirley's service