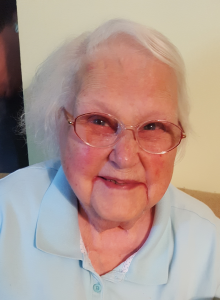 Shirley M. Jorgenson age 91 of New Richmond passed away peacefully surrounded by her family on Friday, July 7, 2017 at the St. Croix Health Center.  She was born April 7, 1926 at the family farm in Horse Creek.  She attended Pine Lake School and was a member of West Immanuel Lutheran Church.  Shirley married Glenn Jorgenson and together they had 6 children.  She raised her family in new Richmond sometimes working summers at Friday canning. Shirley loved her family and always enjoyed the chance to spend time with them. She babysat each of her grandchildren at one point and enjoyed watching them grow and later their children. She had a special bond with each person that knew her well.
Shirley lived a full life and enjoyed many things.  In her younger years she enjoyed traveling going to Hawaii, taking a cruise to the Bahamas, Florida as well as Branson, North Carolina and the Dakotas with dear friends and family. She also loved to go out dancing and could polka with the best. She spent time embroidering and knitting, making dish towels for her family and each year would be busy canning many things from pickles to jelly. Her beautiful smile, sparkling eyes and contagious laugh will be missed greatly by her family.
Shirley is preceded in death by her parents; husband, Glenn; sisters, Eleanor Larson, Verna Mae Jorgenson, Evelyn Griffin; children, Edward Jorgenson, Julie Kahler; and great-granddaughter, Ashley Severson.  She is survived by her children, Robert (Karen) Jorgenson, Diane (Jim) Dahl, Jim Jorgenson, Linda (Dennis) Viellieux; grandchildren, Jenny (Chris) Crowley, Crystal (Tom) Goepfert, Mike (Destiny) Viellieux, Heather (Cody) Stolp, Steve (Val) Viellieux, Jewel Ann (John) Severson, Mark Jorgenson, Amber Jorgenson, Shawn Kahler, Josh (Kristin) Kahler; 13 great-grandchildren; siblings, Bud (Carol) Hofland, John (Sylvia) Hofland,  and Donna Bierbrauer.
A funeral service was held on Thursday, July 13, 2017 at 11 am at Bakken-Young Beebe Chapel in New Richmond.  Visitation was held Wednesday, July 12th from 4-7 pm at Bakken-Young Beebe Chapel and on Thursday from 10-11 am before the service.  Interment was in the New Richmond Cemetery.  Arrangements are with Bakken-Young Funeral & Cremation Services Beebe Chapel of New Richmond.