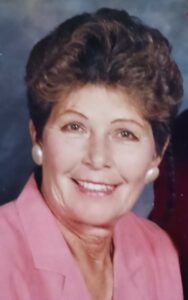 Shirley Mae Bestler, age 87, of New Richmond, WI passed away peacefully surrounded by her family on Wednesday, May 24, 2023, at Regions Hospital in St. Paul, MN.  She was born the daughter of Ed and Irene Pohl on January 4, 1936, in Glenwood City, WI. She graduated from New Richmond High School and from the University of Wisconsin River Falls.
Shirley loved spending time outdoors, gardening, fishing and bird watching. She also enjoyed playing bridge and mahjong. The past several years she enjoyed time at the Senior Center taking part in many activities, spending time with friends and an active member of the breakfast club. Her children, grandchildren and great grandchildren were everything to her. Shirley was a selfless caregiver, independent and courageous woman.
Shirley is survived by her children, Cheryl (Billy) Reese, Rick Hailey, Chris (Steve) Skoglund, Carol (Dave) Somsen, Jon (Mary) Hailey and David (Susan) Bestler; grandchildren, Jon Reese, Richard Hailey, Becky Hailey, Dana Gammons, Michael Skoglund, Tom Skoglund, Natalie Spaeth, Patrick Somsen, Suzy Somsen, Gina Akselrod, Jack Somsen, Erin Rowden, Joe Hailey, Patrick Hailey, Andrew Bestler, Grace Bestler, Madison Bestler; 20 great-grandchildren; brother, Ed Pohl.  She is preceded in death by her parents, Ed and Irene Pohl; brother, Neil Pohl; husbands, Richard Hailey and Gerald Bestler; and great-grandson, Theo Somsen
A funeral service was held on Friday, June 2, 2023 at 11:00 am at St. Lukes Lutheran Church (365 West River Dr.) in New Richmond with a visitation from 10:00-11:00 am at the church.  Interment was in the New Richmond Cemetery.  Memorials may be directed to AA. Arrangements are with Bakken-Young Funeral & Cremation Services.