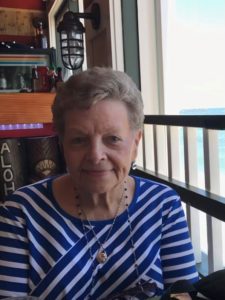 Sheila Lindquist, age 81 of New Richmond, WI, died on Sunday, May 22, 2022 at the Deerfield Gables in New Richmond. Sheila was born May 2, 1941, in New Richmond, WI, to Harold and Myrtle Bentley. She has 6 sisters and 1 brother. Sheila was married to Dean "Chick" Lindquist and had 2 children Robin and Kurt. She also has 3 grandchildren who are the joy of her life.
Sheila worked for the New Richmond Telephone Company as a Telephone Operator. She eventually transferred to the Service/Repair Department where she worked as a Receptionist. She retired early so she could travel with her husband. They traveled the United States for her husband's business. They went primarily by car to allow them to stop at many places of interest along the way. She was also able to have a cruise of a lifetime to Australia, New Zealand, and Fiji.
For the past 20 plus years Sheila wintered in Harlingen, Texas where she enjoyed great friendships, sunshine, cards, and crafts. Currently, if you go past her room, you will find her either diamond painting or crocheting.
She is preceded in death by her parents, Harold and Myrtle Bentley; husband, Dean "Chick" Lindquist; brother, Allen Bentley; brother-in-law, Raymond Anderson. Sheila is survived by her children, Robin (Maynard) Ruppert, Kurt (Kellie) Lindquist; grandchildren, James (Paige Costa) Lindquist, Julia Lindquist, Jens Lindquist; sisters, Myrna Anderson, June (Tom) Watters, Grace (Paul) Germain, Renee (Larry) Peabody, Joyce (Gary) Torkelson, Colleen (Tim) Zimmerman; sister-in-law, Lorraine Bentley; many nieces, nephews, relatives and friends.
A Funeral Service was held on Thursday, May 26, 2022 at 6 pm at Bakken-Young Funeral & Cremation Services 728 S Knowles Avenue New Richmond, WI and streamed live through the link at https://bakken-young.com/sheila-lindquist-05-22-2022/. Visitation was also on Thursday from 4-6 pm a the funeral home. Interment was on Friday, May 27, 2022 at 9 am in the Amery Cemetery in Amery, WI. Arrangements are with Bakken-Young Funeral & Cremation Services.