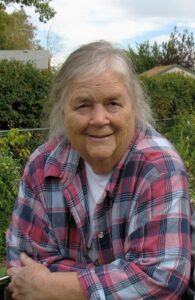 On Friday, November 11th , 2022, Sharol Leneen Darling, loving wife, and mother, passed away at the age of 83.
Sharol was born on May 5th, 1939, in Cedar Falls Iowa to William F. Rohde and Ella A. Kock. Sharol spent her childhood and school-age years in Sioux Falls South Dakota. She received her Bachelor of Nursing from South Dakota State University and a Masters in Anthropology from the University of Colorado Boulder.
Sharol prided in her work as an operating room nurse before stepping away from her career to raise her family. David and Sharol not only raised her two daughters but opened their home to over 20 foster children, exchange students, and visiting college students over the years; always inviting them in and treating them as her own. After the kids left the nest, she went back to work at the University of Northern Colorado in the College of Continuing Education.
Sharol was an avid creator. Her hobbies included sewing, cross stitch, gardening, knitting, and painting. She had a great love for making things for her friends and family. She was a great conversationalist and enjoyed debating the current issues of the day and giving advice. If she didn't have a craft in her hand she was reading, enjoying the escape.
Sharol was preceded in death by her father, William and her mother, Ella. She is survived by her husband David Darling, brother Duane Rohde, her daughters Amy Darling Umiamaka and Meg Darling Herrera, sons in law Pono Umiamaka and Joseph Herrera, and her 5 grandchildren Joshua, Eryn, Tatum, Isabel and Asher. Cremation Services provided by Bakken-Young Funeral & Cremation Services.