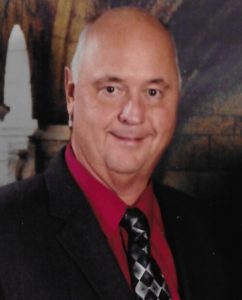 Scott Lester Wood, 68, passed away unexpectedly Friday evening, August 14, 2020 at U of M Medical Center East Bank Hospital in Minneapolis, MN. He was born on March 25, 1952 in Amery, WI, son of the late Lester Vernon Wood and Muriel Evelyn Wood of Clear Lake, WI. He grew up in Clear Lake, was baptized and confirmed at United Methodist Church in Clear Lake. He graduated Clear Lake High School in 1970 and he attended one year at the UW- River Falls. Shortly after leaving the university he began working at Andersen Windows in Bayport, MN until his retirement in 2007.
In 1975 he married Kathi Kaehler. They raised two children; daughter Jennifer and son Aaron. He loved being involved in his children's sports, developing their skills and playing catch in the backyard. During their high school and college years he enjoyed watching them swim and compete at a high level, enthusiastically cheering them on. In his retirement years he looked forward to watching his grandkids swim, play basketball, baseball, football, soccer and even dance. He loved his Green Bay Packers, Wisconsin Badgers, and Milwaukee Brewers.
Golf became an important part of his life after retirement. He was a member of Hammond Golf Club and Thursday men's league. He golfed regularly with his wife Kathi, kids, grandkids, relatives, and friends. Scott was an avid hunter who really looked forward to deer and bird hunting with is son, grandsons, and other relatives and friends. He especially enjoyed pheasant hunting trips to Iowa, South Dakota, and Montana, as well as annual deer hunting trips in northern Wisconsin.
Scott was raised to the sublime degree of Master Mason on June 2, 1983 at Clear Lake Lodge #230 F&AM. He was elected and installed as Worshipful Master serving in 1988. He joined the Scottish Rite Valley of Eau Claire as a 32nd Degree Mason in the spring of 1984 and became Noble of Zor Shrine Temple of Madison. Kathi and Scott were members of the Order of the Eastern Star in Clear Lake, as well.
He is survived by his wife Kathi Wood (Kaehler) of 45 years; his children Jennifer (Shane) Becker, Aaron (Nikki) Wood; four grandchildren, Cole, Riley, Lauren, and Evan; his sister Ruth Ann (Dick) Miller; nephews Justin (Shannon) Miller, Adam (Jessica) Miller; sister-in-law Diane Kaehler; brothers-in-law Ernie (Karen) Kaehler, Wayne Kaehler, Lyle (Lesslie Hessler) Kaehler; and many other nieces, nephews, extended family members and friends. He was preceded in death by his parents Lester and Muriel, sisters-in-law JoAnn Lien, Debra Kaehler; and brother-in-law Leonard Kaehler. Guests will be asked to follow all CDC guidelines for gatherings including social distancing and face masks. A Funeral Service was held Tuesday, August 18, 2020 at 11:00AM at Bakken-Young Funeral & Cremation Services (728 S. Knowles Ave) in New Richmond with a visitation starting at 9:30AM. A Masonic Service was held on Tuesday at 9:15AM at the funeral home. Interment was in Clear Lake Cemetery in Clear Lake, WI. Arrangements are with Bakken-Young Funeral & Cremation Services.