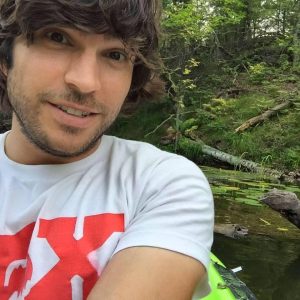 Scott Spoo, age 35 of St. Paul, MN, formally of Deer Park, WI, passed away unexpectedly doing what he loved.
Scott was born Sept. 15th, 1981 in New Richmond, WI, the son of Duane and Ruth (Barvels) Spoo.  He graduated from New Richmond High School as a valedictorian in the class of 2000.  He then attended West Point Military Academy and ultimately graduated with a B.S. in Biology from the University of Wisconsin – Green Bay.  He went on to obtain a Masters Degree in engineering from the University of Minnesota – Twin Cities while working as an engineer at 3M corporation.
Scott lived life to the fullest.  He enjoyed jogging, biking, kayaking, motocross, hiking, snowboarding and traveling.  He participated and competed in many running and biking events.  He has completed marathons, triathlons, mudder races, bike races, and charitable stair climbing events.  He had a real passion for bike riding, he would ride at anytime of year and in any type of environment.  That passion took him to the far corners of the world for bike races or just the chance to ride in a particular location.  Scott didn't do races or events to just compete, he did them because he truly loved to be outdoors and be active.
Scott was the type of person that would help anyone that needed it.  He was a great friend to many and enjoyed spending much of his free time with his fellow cycling group members.  Scott worked to bring more awareness to bicycle safety for both bicyclists and motorists.  He would help anyone who wanted to get into biking by mentoring them when asked.  Scott's willingness to help others included being an organ donor to aide those who are in need.
Not only did Scott enjoy riding bikes, he enjoyed working on them to keep them in tip top condition and optimize their performance capabilities.  His love of engineering came from a life long journey of tinkering with everything from toys to bikes to cars.  Scott was a real do – it – yourself-er, he and his dad would spend many hours on keeping his vehicles in great running condition.  One of the most "discussed" topics in the Spoo family was Scott's ability and determination to keep a truck he once owned running and drive-able for more than 400,000+ miles.  This vehicle was eventually sold and now someone else is still adding miles to it.  A great family story at every occasion.
Scott was preceded in death by his grandparents: Herb, Dorothy, Roy, & Marjorie; several Aunts, Uncles, & Cousins.
He is survived by his parents, Duane & Ruth; siblings, Brian (Kathie) & Holly; many Aunts, Uncles, Cousins, & Extended family.
A Celebration of Scott's Life was held Wednesday, March 1, 2017 at 11:00 am at the New Richmond United Methodist Church (209 E 2nd St.).  Memorial visitation was held Tuesday, February 28, 2017 from 4-8 pm at Bakken-Young Beebe Chapel (112 W 3rd St.) in New Richmond and also on Wednesday from 10-11 am at the church.  In lieu of flowers, memorials may be directed to: 
https://bikemn.secure.nonprofitsoapbox.com/memorial-fund-for-scott-spoo
or make checks payable to: Bicycle Alliance of Minnesota and mention in honor or memory of Scott Spoo.  Arrangements are with Bakken-Young Funeral & Cremation Services Beebe Chapel of New Richmond.