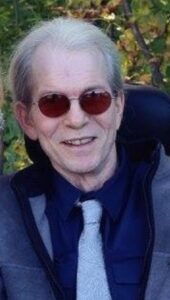 Scot transitioned from his earthly life onto another place of existence at Sacred Heart Hospital surrounded by his wife, daughter, and siblings on June 21, 2023.
Scot was born January 28, 1954, to Otto and Evelyn Singerhouse. He graduated from Prairie Farm High School in 1972 and worked at Anderson's in Bayport, MN. He was proud to have served in the Marines from 1973-1977. He received the National Defense Service Medal, Good Conduct Medal, and awards for being a rifle expert and pistol expert.
He married Stephanie Powers in 1978. He was a plumber until a van-train collision, which left him unable to continue that career, so he attended tech school. He received two degrees, and his last job was as an engineer for Irwin Drill Bit Manufacturing in Cumberland. He was diagnosed with multiple sclerosis in 1991, which caused him to be legally blind and he was unable to continue working. He lived at home with phenomenal caregivers until the last few years made it necessary for him to live in a nursing home.
Scot was preceded in death by his father; mother; infant sister, Ruth; sister-in-law, Bev; brother-in-law, Bob; and nephew, Tommy. He is survived by his wife; daughter, Alyx (Dustin) Bystrom; and the greatest joy of his life, grandson, Otto Scot Bystrom; siblings, Don, Daren Kahl, Paul (Marita), Diane (Kelly) Stevens, Susan Singerhouse, Mary (Roger) Hepokoski; and tons of nieces and nephews.
Cremation services provided by Bakken-Young Funeral and Cremation services, with a private family burial in Fort Snelling National Cemetery at a later date.