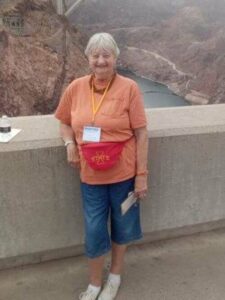 Ruthann Frank, age 82, died on Sunday, August 20, 2023 at Abbott Northwestern Hospital in Minneapolis. She was born the daughter of Orrin and Angeline (nee Dean) Nord in Minneapolis on April 2, 1941. Ruthann grew up in Bloomington, MN graduating from Burnsville High School, class of 1959. She graduated from Winona State with a degree in Physical Education. She was a member of a synchronized swimming club where she met David Frank. They were married on July 25, 1964 in Bloomington. Ruthann worked as a physical education teacher in Oshkosh, WI and Loyal, WI. Finally, substitute teaching in River Falls as a swimming teacher. She also worked Search Beyond where she chaperoned handicapped individuals on various trips. In addition, Ruthann worked for the Special Olympics when it was in Minneapolis. She volunteered for Walk On Therapeutic Riding. Ruthann was an avid gardener and loved to travel. She enjoyed singing in the choir at church and spending time with her grandchildren, two nephews, and grandniece. Ruthann was compassionate and selfless.
She is preceded in death by her husband, David and parents, Orrin and Angeline Nord. Ruthann is survived by her sons, Karl and Eugene "EJ" (Trina); grandchildren, Lexi and Tanner; brother, Peter (Janet) Nord; two nephews, Alec Nord and Lucas (Bonnie) Nord; and grandniece, Zoey. In lieu of flowers, memorials may be directed to Walk On Therapeutic Riding, American Cancer Society, or Luther Memorial Lutheran Church. In honor of Ruthann, please dress casually and wear bright orange.
A Funeral Service was held on Saturday, August 26, 2023 at 11:00AM at Luther Memorial Lutheran Church (420 S 4th St) in River Falls with a visitation starting at 9:30AM. Interment was in Greenwood Cemetery. The service will be livestreamed via a link below this obituary. Arrangements are with Bakken-Young Funeral & Cremation Services.