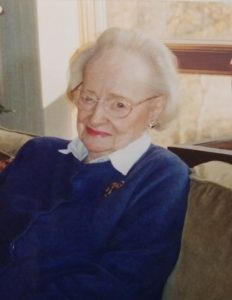 We have turned to the final chapter of the remarkable life of our dear Mother, friend and mentor
Ruth M. Kees. She was not only a talented designer and businesswoman, but also a  kind friend, patient confidant, with  great wit and worldly wisdom, always there to share a hug, or an infectious laugh, and a tour de force when you needed a strong ally.
Ruth was born July 17th, 1914, in Minneapolis, MN. , to George and H. Ruth Mueller. Her father died at a young age, leaving her mother to raise Ruth and her brother John to adulthood.
After graduating college in St. Cloud, she married, and had her beloved David '"'Tuffer" Tifft. David died suddenly at the age of three.
Through David's untimely death Ruth discovered, then pursued her love of design with architect  and designer Genevieve Hendricks in Washington D.C. , where the firm worked on longstanding  restorations of Williamsburg, The Elms,  and many other notable projects on the East Coast.
Returning to Hudson in 1949, where her Mother now lived, Ruth and her Mother purchased what became Harding's at Hudson from the Harding family. There she shared her knowledge and expertise in interior design, for more than a half a century. She also sold gifts that reflected her passion for all things that  were Ruth – books, yarn, spices, and fine gifts.  Her handknit sweaters were available there, keeping thousands of babies warm over the last  half a century.
Her marriage to Russel A. Kees gave them Catherine and Carolyn…
Ruth filled her friends' homes with her innate creativity for design and art. She encouraged her friends to pursue their passions and enjoy the simple pleasures of gardening, cooking, music, and, a soft breeze. Her home  was her favorite place to be.
She will be  profoundly missed by her daughters, Catherine and Carolyn, her extended family and friends, Jeffrey Shaw, Edward Hawksford, and Andrew Terwilliger,  as well as her furry friends, Phinney, GiGi,  Byron, Tony, Pippin, Milton, Jetty, Sunny, Dune, and Bluie.  And love and appreciation to her "other family " — Comforts of Home, Hudson, WI
"BEAUTY IS THE ONLY THING THAT TIME CANNOT HARM. PHILOSOPHIES FALL AWAY, LIKE SAND,CREEDS FOLLOW ONE ANOTHER, BUT WHAT IS BEAUTIFUL IS A JOY FOR ALL SEASONS, A POSSESSION FOR ALL ETERNITY." Oscar Wilde
A Memorial Service was held on Thursday, February 16, 2017 at 2 pm at Ascension Episcopal Church 214 3rd Street N Stillwater, MN.  Visitation was also Thursday from 1-2 pm at the church.  Interment will be in Lakewood Cemetery in Minneapolis, MN at a later date.  Arrangements are with Bakken-Young Funeral & Cremation Services of Hudson.