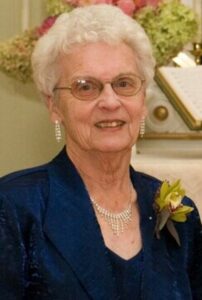 Ruby A. Luehman, age 92, of Star Prairie, WI passed away Tuesday, September 20, 2022 at the St. Croix Health Center surrounded by loved ones. Ruby was born to Edwin and Louise Everson on June 9, 1930 in Alden Township. She grew up on her family farm, with her 9 siblings, in Star Prairie, WI. It was there that she met her husband of 69 years, Orvin Luehman. Ruby and Orvin were married at Bethany Lutheran Church in Star Prairie, WI on July 26, 1953. They were blessed with two wonderful children, Deborah and Dennis.
Orvin and Ruby made their home in Star Prairie, WI just down the road from her family farm. Ruby was a loving mother, grandmother and great grandmother. She worked at the Cedar Lake School house for many years and also at the Alden Mealsite. You could often find Ruby at West Immanuel, at home canning or rolling lefsa in the fall of the year. She was a wonderful baker and always had cookies at the house for anyone who would stop by after church or dropped in for a visit. Ruby was a member of the West Immanuel Congregation since 1966, a member of the Ladies Aide and was a proud Christian woman.
Ruby is preceded in death by her loving daughter, Debbie Krueger; great grandchildren Jacob Hayman and Madeline Gessner; parents, Edwin and Louise Everson; her siblings Anna (Lawrence) Johnson, Gladys (George) Heichel, Merlin (Mary Lou) Everson, George (Patsy) Everson, Irving Everson, Art (Edith) Everson, Lester Everson; and her brother in law Neil Ausen.
Ruby is survived by her husband, Orvin Luehman; her son Dennis (Nancy) Luehman; her son in law Tom Krueger; her grandchildren Jessica (Mike) Gessner, Emily (Mike) Hayman, Amanda (Andy) Bolder, Mick Darvial; her great grandchildren, Elida, Avery, Thomas, Graydon, Michael and Samantha; and her siblings Blanche Ausen, and Floyd (Judy) Everson; as well as many loving nieces and nephews, relatives and friends.
Visitation was held on Wednesday, September 28, 2022 from 4-8 pm at Bakken-Young Funeral & Cremation Services 728 S Knowles Avenue New Richmond, WI 54017 and on Thursday, September 29, 2022 from 11 am – 12 noon at West Immanuel Lutheran Church 447 180th Street Osceola, WI.  A Funeral Service was held on Thursday, September 29, 2022 at 12 noon at West Immanuel Lutheran Church 447 180th Street Osceola, WI.  Interment was in West Immanuel Cemetery.  Arrangements are with Bakken-Young Funeral & Cremation Services.
Click here to watch the recording of Ruby's funeral service.