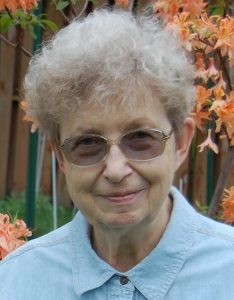 Ruby L. (Roehl) Jankus, 87, of River Falls, WI passed away peacefully on Jan 7, 2017 at United Hospital in St. Paul shortly after a severe stroke but not before she was able to tell her family she loved them and they her.
Ruby was born in River Falls on Dec 17, 1929 to Raymond and Rosabelle (Wanner) Roehl. She was the last surviving descendant of the Roehl pioneers from the German Settlement, Troy township, with the Roehl surname. She attended public schools in River Falls, graduating high school in 1947. She met her loving husband, Edward Jankus, while both were attending UW-RF and was married Dec 17, 1955 in Ezekiel Lutheran Church, River Falls, WI.
When her children grew independent, she returned to her education and earned a BA from the College of St. Catherine and was elected into the Phi Beta Kappa honor society. She later earned a MA degree in design from the U of MN. Ruby had a graphic design business and also was an instructor in design at the College of Home Economics, U of MN, St. Paul.
After her husband's retirement, she wanted to return to her beloved River Falls. For the last 25 years Ruby sewed beautiful quilts, dolls, handbags, coats & scarves. She provided many neighbors', friends' and relatives' newborns with baby quilts. Her motto was: "Every child needs a quilt."
Ruby reached out to other quilters and started the "Library Quilters" group which meets twice a month. She enjoyed the company of kindred quilters.
Ruby's kindness and good spirits will be missed dearly by her family and friends. She is survived by her husband, Edward; her sons Mark of River Falls and Ward (Betsy) of Neenah, WI; grandchildren Anna and Connor; brother-in-law James (Pris) Jankus of Manteno, IL; nephews Craig Bolivar and Timothy (Linda) Whitney and daughters; and nieces Juliet, Jean, Mary, Beth and their families.
A private family interment will take place at the German Settlement Cemetery in the spring. Memorials may be made to the River Falls Public Library or to a charity of the donor's choice.  Arrangements are with Bakken-Young Funeral & Cremation Services of River Falls.