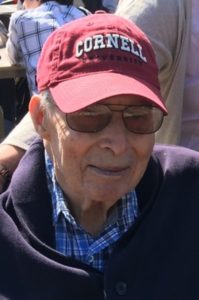 Ross Pierson
On Sunday, March 8, 2020, Ross Pierson, husband, father, son and brother, passed away at the age of 95 years. Ross is survived by his wife Sue, their children Kate and her husband Tad, son Tom, son Richard and wife Tina, and son Gail and wife Judy, by his sister Ardeth, by grandchildren Carrie, Ross, and Zoe, Sam and wife Kelsey, Dan and wife Erika, Joel and wife Julia, and by great-grandchildren Basil, Truly, Amora Mae, Calvin, and Clara Sue.  He is preceded in death by his brother Arlie and sisters Verona and Myrna.
Ross was born on May 5, 1924 to Richard and Letha Pierson at his family's farm home near Rockwell City, Iowa. Ross graduated from Lytton High School, and served in the U.S. Army in the aftermath of World War II. After his discharge, he met Lytton Public School 4th grade teacher and future wife Sue Davis at a local dance.  In 1948, they married at the famed Little Brown Church in the Vale near Nashua.   Ross and Sue welcomed sons Richard, Gail, and Tom in the years immediately following, during which Ross and Sue farmed near Rockwell City.  In 1956, the young family moved to their newly purchased Wisconsin farm in the town of Rush River, St. Croix County.  In 1960, daughter Kate was born.  All four children graduated from Baldwin-Woodville High School, and were confirmed in the New Centerville United Methodist Church, where Ross and Sue were active members.
Ross was devoted to civic issues, and his long commitment to public service began with membership in, and then chairmanship of the Rush River Town Board.  He went on to a long and fruitful term of service on the St. Croix County Board of Supervisors from 1968-1980.  He helped organize the St. Croix County Land Use and Resource Committee commencing in 1975, the same year he assumed chairmanship of the St. Croix County Unified Services Board.  He served on the Tri-County Mental Health Clinic Board, and helped establish a mental health facility near New Richmond.  Ross held membership on the state of Wisconsin Agricultural Lands Preservation Board from 1981-1985, and the State Land Conservation Board from 1982-1985.  In retirement, Ross served for a time as bailiff of the St. Croix County court.
Ross and Sue left the farm in 1994 and moved to River Falls, then to the Baldwin Care Center in 2017.   His full and rewarding life was marked by pride in and loving support of his family, as well as a sense of responsibility to the community and the land.  He will be greatly missed and fondly remembered by family, friends, and colleagues.
A Memorial Service was held on Saturday, March 14, 2020 at 3 pm at the River Falls United Methodist Church.  Visitation was on Friday, March 13, 2020 from 4-7 pm at Bakken-Young Funeral & Cremation Services 1750 8th Avenue Baldwin, WI 54002 and on Saturday from 2-3 pm at the church.  Interment will be in Mt. Olivet Cemetery in New Centerville, WI at a later date.  Arrangements are with Bakken-Young Funeral & Cremation Services.