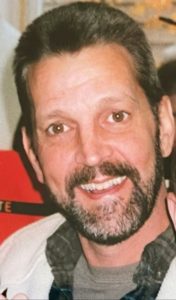 Ronald "Rocky" Rutledge, died on Tuesday, February 15, 2022 at Lakeview Hospital in Stillwater, MN. He was born the son of Robert "Bob" and Joan Rutledge on March 12, 1962 in Cheverly, Maryland. Ron grew up in New Richmond graduating from New Richmond High School, Class of 1980. He worked at Anderson Windows from 1983 to 2001. Rocky loved working with his hands, snowmobiling, fishing and hunting, slinging Budweisers while BS'ing with good company, and watching the Green Bay Packers and NASCAR. Although he was known for letting his opinion be known, whether you asked for it or not, Ron genuinely wanted to share his knowledge with those closest to him. He had a caring heart of gold and a witty sense of humor that was always followed by his infectious smile. He is preceded in death by his father, Bob Rutledge. Ron is survived by his daughter, Ashley (Shawn) Fischer; grandsons, Owen and Dane Fischer; mother, Joan Rutledge; brother, Brian Rutledge; nephew, Austin Rutledge; and many other relatives and friends.
A Celebration of Life was held on Monday, February 21, 2022 at 3:00PM at Bakken-Young Funeral & Cremation Services (728 S Knowles Ave) in New Richmond with a visitation starting at 1:00PM. Interment was in New Richmond Cemetery. Arrangements are with Bakken-Young Funeral & Cremation Services.
Click here to watch the recording of Ron's service.