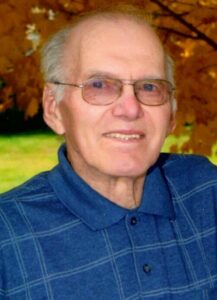 Ronald Kemling, age 91, passed away on Monday, September 26, 2022 at the Westfields Hospital in New Richmond. Ronald was born on April 18, 1931 to Arthur and Leona Kemling. He was baptized and confirmed at St. Paul Lutheran Church in Deer Park, WI. He was united in marriage to Vivian Johnson on July 23, 1960. His passion was farming and tell his grandchildren about the olden days. Ronald enjoyed dancing and visiting friends and relatives.
He was preceded in death by his parents, Arthur and Leona; grandson, Jeremy Gillis; sister-in-law, Marlene (Bill) Robl. Ronald is survived by his wife of 62 years, Vivian Kemling; son, Gary (Cheryl) Kemling; daughter, Judy (Joe) Gillis; six grandchildren, Justin, Jake, and Jessica Gillis, Erica (Matt) Dorsey, Marshall Kemling and Aaron (Anna) Kemling; five great-grandchildren, Kayden, Xavier, and Lexi, Erwin and Reagan; sister, Ardys (Allen) Warner; nephews, Steve (Patty) Warner and Scott (Sue) Warner, Troy, Todd, and Travis Robl; nieces, Jeanne (Gary) Bergman, Cindy (Doug) Meyers, Becky (Mark) Bridges; as well as many friends and neighbors.
A Funeral Service was held on Saturday, October 1, 2022 at 11:00AM at Bakken-Young Funeral & Cremation Services (728 S Knowles Ave) in New Richmond with a visitation starting at 9:00AM and Reverend John Wilman officiating. Interment was in Calvary Cemetery in Deer Park. Arrangements are with Bakken-Young Funeral & Cremation Services.
Click here to watch the recording of Ronald's Funeral Service.