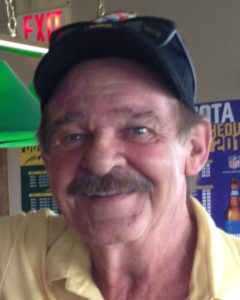 Roland Clarence Running, age 75, of New Richmond died Saturday, April 14, 2018 at The Deerfield Gables Care Center. Roland was born the son of Arthur and Doris (nee Kiekhofer) Running on February 1, 1943. He grew up in Star Prairie attending New Richmond High School. Following high school, Roland served in Vietnam with the US Army. After completing his service, he worked various jobs in construction, sold homes, factories, Polaris, and UFE. Roland married Marlys Larson on December 29, 1998. Roland enjoyed fishing, hunting, camping, and antiquing. Roland was a family man who was loving, caring, and had a great sense of humor.
Roland is preceded in death by his parents; brothers, Robert Running and Ed Olson; and many other relatives. He is survived by children, Lisa and Ron; step children, Kay, Holly, Cory, Dawn, Denise, Dena, Ross and Ryan; many grandchildren; great-grandchildren; brothers, Donovan and Gary; sister, Nancy; sister-in-law, Peggy Olson; and many nieces and nephews.
A memorial visitation was held Thursday, April 26, 2018 from 4 – 8PM at Bakken-Young Funeral & Cremation Services (112 W 3rd Street, New Richmond, WI 54017). Private family interment was held in New Richmond Cemetery. Military Honors was performed by VFW Post 10818 of New Richmond. Arrangements are with Bakken-Young Funeral & Cremation Services Beebe Chapel of New Richmond.