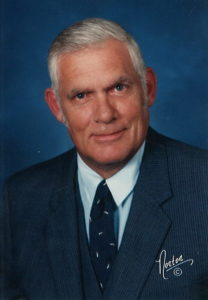 Roland "Rollie" Bernard Brinkman, born July 29, 1938. Rollie would like you to know his work here is finished. He died on June 25, 2018, and as he would say – "Well, he's never done that before." He will be deeply missed by his family and friends of all ages.
Rollie was born in Hopkins, MN and moved with his family to a farm outside of Somerset, WI when he was five. After graduating from New Richmond High School in 1956, he spent three years in the United States Marine Corps, where his duties ranged from observing nuclear tests to being a rodeo clown. He fully embraced the slogan of "once a Marine always a Marine" and remained always loyal to the Marine Corps and the many friends he made there.
On August 8, 1964, Rollie married Jewelette Nelson. It was love at first sight, on their first date Rollie told Jewel he was going to marry her. After marrying, Rollie and Jewel got right to work and nine months later the first of six children followed. They were a united front and created a loving home for Matthew, Christine, Carol, David, Andrew, and Seth.
For thirty-two years Rollie worked at St. Croix Telephone Company. During fifteen of those years he also worked for St. Croix County as a part-time law enforcement officer. Rollie loved these jobs because they gave him the opportunity to do what he enjoyed the most–meeting new people and serving the community. After retiring from the telephone company and law enforcement, Rollie spent many years as an electrician and continued his life-long work of being an all-around good guy.
Rollie was a teacher of many valuable lessons. From him we learned that you never leave home but you always "launch out of here," and that every return home was finished with a "jiggity-jig." He taught us that a home didn't need to be perfectly maintained to be highly functional. When we asked why he never fixed the step in the staircase that squeaked whenever we stepped on it, he responded with "that's how I know my babies are home." He taught us that a quick trip to town took three (or more) hours if you happened to meet someone (even a stranger) who wanted to talk – and there was always someone who wanted to talk. Decades before Facebook and Twitter, Rollie was his own "social networking site" always finding time to connect and share stories with those around him. From his example we learned that when you move into a new house the best way to meet your neighbors is to sit on a lawn chair at the end of your driveway and invite everyone who passes by to drop in anytime for a cup of coffee. We learned it's not what we have, but who we have in our lives that matters. He taught us that pancakes were best when served with a half cup of butter melted on top, and oatmeal needed chocolate chips to bring out the natural flavor. When times were stressful Rollie always reminded us to find joy in life by asking, "Who has more fun than people?" And most importantly, he taught us that kindness is always the best option.
Rollie leaves a deep and lasting legacy of inspiration to keep an open heart, an open mind, and to always take time to talk and connect with everyone. He was a devoted husband, father, grampa, and friend. In his company we felt cherished and loved.
Our heartfelt thanks go to the staff at Deerfield Gables and St. Croix Hospice who provided not only compassionate, dignified end of life care, but also authentic friendship for Rollie. He loved you all. Interment Northern Wisconsin Veterans Memorial Cemetery. A Memorial Gathering was held Thursday, June 28, 2018 from 5:00 – 8:00 p.m. at the Deerfield Chapel (1127 W 8th St, New Richmond, WI 54017). A Memorial Service was held Friday, June 29, 2018 at 2:00 p.m. at the Deerfield Chapel  with visitation one hour prior to the service. Arrangements are with Bakken-Young Funeral & Cremation Services Beebe Chapel of New Richmond.