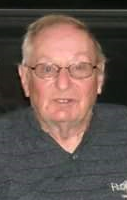 Roger Eugene Miner Sr, age 78, of River Falls, WI passed away quietly on Friday, August 11, 2017.
He was born on April 19, 1939 in Algona, IA to Donald and Marion Miner. He grew up in Willmar, MN. He married Carol Stoldorf on September 24, 1961. The couple moved to Lawton, OK to the Fort Sill army base. After being discharged from the military, Roger remained active in the Army Reserves and the Legion in New Richmond, WI.
A career in transportation had Roger driving truck for Dahlen, Koch, and SSG. Although he drove for a living, Roger still enjoyed travel. Roger and Carol enjoyed being with friends, dancing, going to the drive-in, and playing cards. Family was Roger's hobby. He loved taking family vacations. He took great joy in making new friends and keeping up with old friends. In fact, his children's friends were quite often unofficially adopted.
A beloved father, grandfather, brother, uncle, and friend, Roger is loved and greatly missed.
He is preceded in death by his wife, Carol; his daughter, Brenda Lee Miner; his parents, Donald and Marion Miner; and his brother, Curtis Miner.
Roger is survived by his daughter, Terry Ekstrom; his sons, Roger Miner Jr. and Kevin (Melanee) Miner; his grandchildren, Logan Ekstrom, Kelsey Ekstrom, Nicole Ekstrom, Donald Horban (Miner), Eric Horban (Miner), Caitlin Roberts-Miner, Ian Miner, and Eli Miner; his sister, Jean (Keith) Mclaughlin; as well as beloved family and friends.
A funeral service was held Thursday, August 17, 2017 at 11:00 a.m. at First Covenant Church (1374 N. Main St.) River Falls, WI. Visitation was held one hour prior to the service. Private interment will be at a later date. Arrangements are with Bakken-Young Funeral & Cremation Services of River Falls.